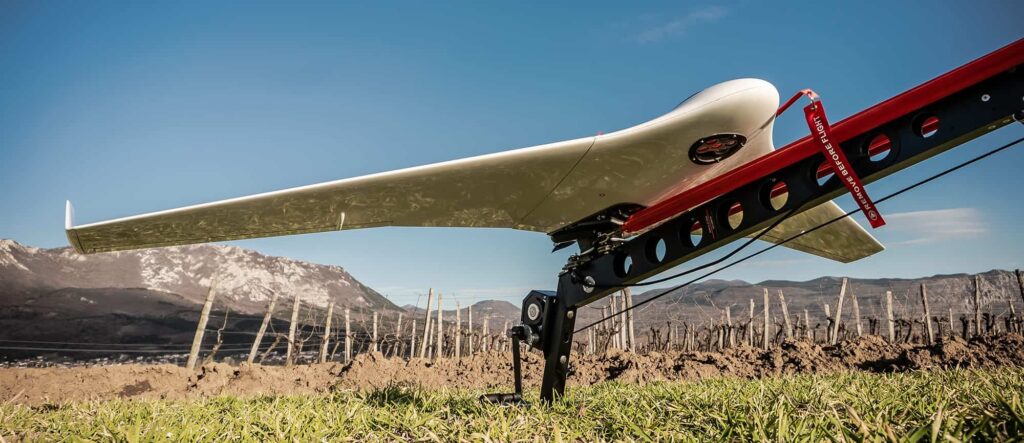 Following months of integration testing and optimization, C-ASTRAL Aerospace has announced that the new BRAMOR mSX long endurance beyond visual line of sight (BVLOS) enabled fixed wing unmanned aircraft system (UAS) is now available to advanced users worldwide.
Equipped with a state-of-the-art Micasense ALTUM sensor, the three-hour endurance UAS is designed for the acquisition of data in the combined radiometric multispectral, visible and thermal remote sensing space for precision agriculture, advanced research remote sensing and surveying. The BRAMOR mSX fills the gap between satellite data acquisition and short endurance drone platforms that typically cover very small areas.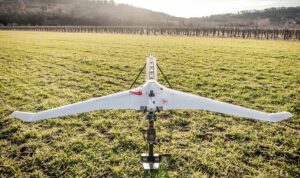 The all-electric mSX drone is capable of covering approximately 3,000 acres (11sq km) in one flight, with a multispectral GSD of 2 inches, a GSD that is orders of magnitude higher than what is currently available from satellite sensing and thus enables precise, plant-level based localization and monitoring, enhancing ecological and agricultural analytics to new heights.
The system is comprised of an air and ground segment, consisting of the fully integrated ALTUM sensor, combined with a state-of-the-art GNSS onboard receiver and ground base station, the BRAMOR mSX blended wing body modular airframe and other optional sensors (the ALTUM is exchangeable with a 24MP or 42MP RGB ultra high GSD cameras), a portable and ergonomic rugged ground control station and catapult launcher.
The BRAMOR mSX BVLOS remote sensing UAS combines high precision autonomous operations with high definition data acquisition, turbulent air penetration and stability with long endurance.
"BRAMOR mSX is the ultimate high productivity beyond visual line of sight enabled instrument for precision agriculture global surveying and remote sensing in very remote and less remote areas and we are looking forward to offer it to our current and future customers all over the world" said Nejc Trost, a C-ASTRAL co-founder and head of strategic R&D.
With an industry leading endurance of three hours, an operational ceiling of 5000m AGL and capable of operating in winds of up to 60km/h, the system is built on a legacy of more than 100,000 hours of operations by Bramor systems worldwide, including extreme environments and intensive operations, such as the ones in Arctic research and force protection in Afghanistan.
The airframe is made of advanced composite materials (Kevlar/Carbon/Vectran) that provide a high level of survivability. A high visibility color scheme, strobe, transponder and NAV lights are optional for BVLOS operators. Embedded autonomous flight procedures include an array of fail-safe options based on man-rated standards. The mSX is equipped with the C-ASTRAL high rate GNSS receiver and IMU precision data-logging electronics.
The system launch customer is Purdue University, which uses it for UAS operations and remote sensing training.
Learn more about the BRAMOR mSX UAV >