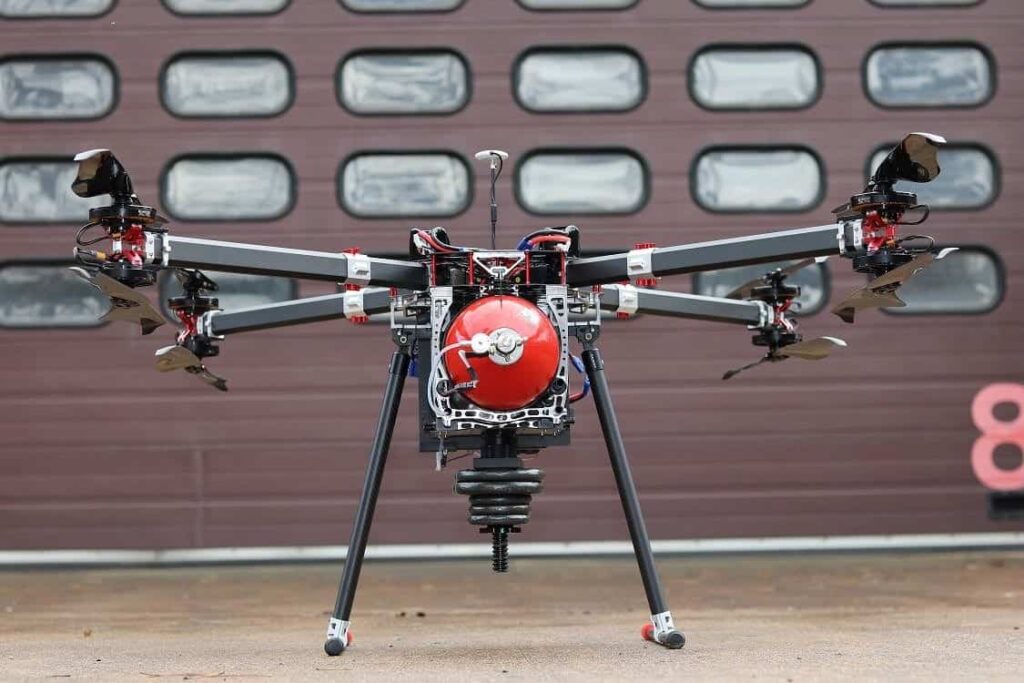 Intelligent Energy has announced that its fuel cells have been used to power a multi-rotor unmanned aerial vehicle (UAV) that has beaten its original test flight target of 60 minutes with a 5kg payload, setting a new benchmark for flight time and payload in the commercial UAV industry.
Project RACHEL, supported by Innovate UK, is led by venture engineering company Productiv on behalf of UAV filming specialists BATCAM. The UAV is powered by fuel cells from Intelligent Energy, whose team have significant expertise and a proven track record in producing some of the world's lightest and most power-dense fuel cell stacks for commercial UAVs.
The initial target of the project was to achieve 60 minutes of continuous flight while carrying a 5kg payload. The Lithium Polymer battery powered UAVs flown by BATCAM allow around 12 minutes of useable flight. The recent test of the purpose-built fuel cell powered UAV saw it fly for an uninterrupted 70 minutes carrying a 5kg payload. This was achieved on a UAV with below 20kg maximum take-off mass, using a 6-litre cylinder containing hydrogen gas compressed to 300 bar.
The project will complete early in 2019 with BATCAM carrying out real-world end-user trials. Successful completion of the project will bring major benefits for those involved in commercial UAV usage, in sectors such as mining, agriculture, surveying and monitoring, security, and emergency services.
Intelligent Energy has completed the integration work and BATCAM has advised on design requirements, project targets and has piloted the test flights. In addition, Intelligent Energy is commissioning and trialling a user-friendly, cost-effective, portable refuelling solution from NanoSUN, a specialist supplier of hydrogen fuel systems.
Productiv's role includes programme management, business model planning, design for manufacture and supply chain optimisation, with the aim of having all components sourced within the UK.
Jonathan Reed of Productiv commented: "The effectiveness of UAVs is limited by their flight time and payload capacity. This innovation opens up new opportunities for commercial UAV operators.
"Operators need longer flight times than can be delivered with batteries and are therefore seeking alternative power sources with higher power density. Hydrogen power has huge potential here, and we anticipate a significant growth in the market for hydrogen-powered UAVs in the next few years."
Jon Hurndall, CEO of BATCAM, commented: "I congratulate all partners on this fantastic achievement. It is great to see product innovation and continued development with hydrogen fuel cells for UAVs – these represent a viable alternative to Lithium Polymer batteries which are not only difficult and costly to transport internationally but largely inefficient in comparison to hydrogen. A 60-minute-plus flight time with a large payload creates many opportunities, not only with our existing broadcast clients but in other commercial markets and sectors. We are eager to explore these opportunities in 2019."
David Woolhouse, CEO at Intelligent Energy, said: "Here at Intelligent Energy we are committed to helping our UAV customers solve the problem of flight time. We welcome this Innovate UK funded project as it further embeds the integration of fuel cell technology for the benefit of the industry.
"The advantages of fuel cells over batteries for our customers are clear; fast refuel, no vibration, quiet operation, zero emission at point of use and three times more flight time than batteries. Fuel cells are a game-changer for the commercial UAV market."