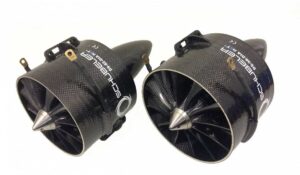 Microdrones has announced a merger with Schübeler Technologies, a provider of advanced fan propulsion jets and lightweight composite materials fabrication.
Offering a full product lineup of robust turbo fans, jets, compressors, pumps, electric motors, carbon fiber and aluminum composites, Schübeler products are designed to withstand extreme conditions and demanding field use. These components provide thrust power and lightweight durability to high tech applications such as unmanned aerial vehicles (UAVs).
Microdrones President Vivien Heriard-Dubreuil commented: "We make life easier for professionals by offering the full solution; it has proven to be a successful strategy. Perfectly integrated drones, sensors, software, workflow, training and support is what the market needed. Welcoming the Schübeler team, talent and capabilities to Microdrones delivers new aviation technology and capabilities to our customers in the form of next generation unmanned aircraft."
As the preferred provider of VTOL solutions to Trimble Dealers worldwide, Microdrones adds a global sales force and distribution network as well as technical centers and production sites spanning 7 countries and 3 continents. Daniel Schübeler, founder and CEO of Schübeler Technologies explained: "Merging with Microdrones empowers us to develop and deliver systems where we can best support customers locally. This is a happy homecoming for me and the team that we've built over the past twenty years."
Schübeler was an original founding partner in Microdrones and helped develop the pioneering technology used in Microdrones' professional VTOL UAVs. He added: "Both of these companies have enjoyed global growth and impressive technological advancements independently- merging our talents and teams will yield amazing solutions in the years to come."
Francois Gerner, SVP of Corporate Affairs at Microdrones commented: "This is a strategic growth initiative. We are adding technology, IP, talent, strong leadership and investment capabilities that are complementary to both brands. This deal brings us to more than 150 highly skilled employees worldwide, which translates to better products, service and support."
In addition to expanding the Microdrones team and family of products, the merged companies will also retain the Schübeler Technologies brand, which commands a niche audience of serious aeromodelling enthusiasts. Schübeler Technologies will continue to serve these markets as well as tackle large scale custom R&D projects related to propulsion and materials.