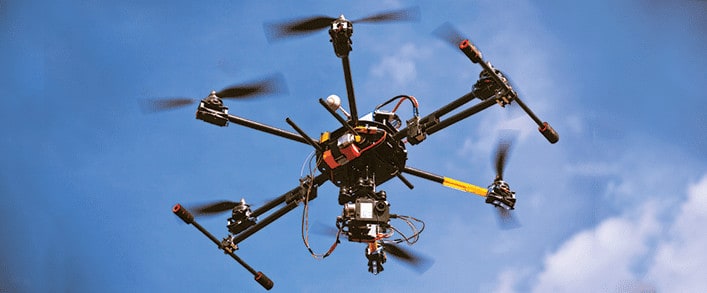 The Northeast UAS Airspace Integration Research Alliance (NUAIR) has announced the successful demonstration of a new Airborne Collision Avoidance System (ACAS) for small unmanned aircraft systems (UAS). The first-of-it-kind test flights for ACAS sXu (the newest member of the ACAS X family designed specifically for small unmanned aircraft) were held at Griffiss Airport in Rome, New York.
The system is a smaller and more compact version of the next generation ACAS X, an airborne collision avoidance system now under development for large passenger and cargo-carrying aircraft. The tests showed the system has the unique ability to detect and avoid other aircraft, both manned and unmanned. The flight tests were a collaboration between AiRXOS, a GE venture, Fortem Technologies, GE Aviation, GE Global Research, Johns Hopkins University Applied Physics Lab, MIT Lincoln Laboratory, the FAA TCAS Program Office, AX Enterprize, the New York UAS Test Site in Oneida County and NUAIR Alliance.
During flight, detect and avoid capabilities use information from airborne and ground-based sensors to make pilots aware of potential collision risk and provides guidance to ensure a safe outcome. The ACAS sXu system is specifically designed to do this by providing back-up collision avoidance to provide an additional layer of safety beyond existing air traffic control systems and flight procedures.
These features are key toward commercialization of UAVs and urban air mobility. Furthermore, the ACAS tests specifically showed that the system could be run as an airborne system, as well as a cloud-based system inside of the unmanned aircraft systems traffic management (UTM) architecture, with similar detect and avoid abilities.
"This industry collaborative test marks another proud industry first: an airborne detect and avoid (DAA) radar feeding airspace detection data into an onboard ACAS-sXu in live flight and generating resolution advisories to ensure safe avoidance of a potential airborne collision," said Adam Robertson, Co-Founder at Fortem. "For the first time in history, flight collision threat detection and autonomous avoidance with onboard ACAS-sXu was demonstrated in a sUAS live flight, enabled by the integration of a Fortem TrueView R20 radar."
In demonstrating this future detect and avoid and UTM capabilities, the partners have shown that new safety measures exist which will support the commercialization of the unmanned aerial vehicle industry.
"Through this successful demonstration, these partners have helped the unmanned systems industry reach another milestone," said Major General Marke F. "Hoot" Gibson (ret), chief executive officer, NUAIR Alliance. "These collaborative efforts support the research and development critical to the safe integration of unmanned systems in the national airspace. Together we are advancing the industry as a whole and furthering this region's position as a national leader for UTM technologies."
The US Federal Aviation Administration (FAA) has led the development of the ACAS family of systems, which is intended to replace the Traffic-Alert and Collision Avoidance Warning System (TCAS) for all aircraft. Working with the FAA, the Massachusetts Institute of Technology's Lincoln Laboratory and the Johns Hopkins University Applied Physics Laboratory developed the software for ACAS Xa/Xo for large aircraft (published as RTCA DO-385) and ACAS Xu, the version dedicated to large UAS.
"This major advancement in ACAS capability is a testament to the strong partnerships we have forged at Oneida County's UAS Test Site at Griffiss International Airport," said Oneida County Executive Anthony J. Picente Jr. "The collaboration and innovation that is taking place in Rome is second to none and continues to propel the UAS industry forward by leaps and bounds."
Scalable detect and avoid functionality remains the critical impediment to safe operations of UAS. Given operation-viable integrated surveillance, the ACAS X family offers a common framework for collision avoidance across manned and unmanned operations. This most recent flight testing demonstrated that UAS operators can utilize ACAS sXu capabilities not only as vehicle integrated solutions, but also as a service provided by a UTM system. Detect and avoid will eliminate the need to use visual observers in BVLOS operations and lead to more cost-scalable operations. In fact, during testing, a GE developed vehicle configuration was flown beyond visual line of sight (BVLOS) of the pilot, with the longest flight patterns spanning a stretch of 2.15 nm (4 km), as far as 1.34 nm (2.5 km) away from the remote pilot.