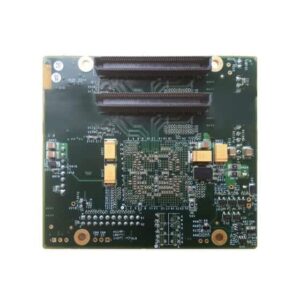 MilSource has announced the availability of Techaya's MILTECH 9136, a military-grade, managed gigabit Ethernet switch on board (GESoB) that supports up to 52 ports on a 3.4" x 3.4" foot print. The MILTECH 9136 is ideal for managing and switching large quantities of network-enabled devices in unmanned systems such as UAVs (unmanned aerial vehicles), with 24 1G ports of plug and play copper, 8 ports 1G SFP fiber, 4 ports of 10G SFP+ fiber, and 4 QSGMII ports for an additional 16 1G fiber interfaces.
Recognizing the rapidly increasing demand for VICTORY-compliance in military vehicles, Techaya delivers support for both Synchronous Ethernet (SyncE) and IEEE 1588 standards for time and frequency alignment across devices on military networks. Advanced network features include static routing, VLANS, traffic prioritization (QoS), bandwidth aggregation, and security at both port and board level.
The MILTECH 9136 is designed for easy integration on to any communications backplane. Thirty-six of the ports are plug and play, with an additional 16 ports available by connection to a backplane to integrate with external PHYs. A conformal coating enables the MILTECH 9136 to stand up to extreme vibration and environmental elements and it is rated to work in temperatures from -45C to +85C. It complies to MILSTD-810F/GM and MILSTD-461E when housed in an appropriate enclosure.
"The MILTECH 9136 is truly a unique product for the military and airborne markets," said Ronen Isaac, general manager of MilSource, the exclusive distributor of Techaya MILTECH products in the United States. "No other Ethernet switch on the market delivers this plug and play capabilities with the port density and unique mix of data speeds and physical media in a compact form factor."