Omnetics, a provider of Nano and Micro miniature connectors and interconnection solutions, has released the following article discussing the evolution of electronics on unmanned and remotely-piloted helicopters.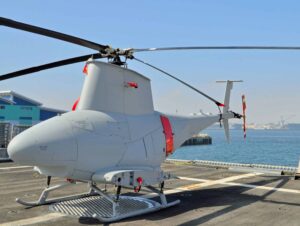 As unmanned helicopters and VTOL UAVs evolve, designers are learning of the many differentiated needs and requirements for direction, control and special performance. The objectives of each type of service can have dramatic demands. For example, rescue helicopters at sea rely heavily on the pilot's constant focus on bouncing ships, turbulent winds and adjustments for elevation.
Remote control of these many functions is extremely challenging. Similarly, the synchronization of multiple helicopters in group flight or landing on battlefields allows little time for electronic signal processing detection, transmission and then returning instructions for position control. In other cases, cell towers and power lines will suddenly be in the way of a flight mission – they may not be registered or be on a map.  In short, remote guidance is significantly different than hands-on flight. To help reduce time-lag, electronics for remote helicopter control systems are being moved on-board.
Since the ALIAS (Aircrew Labor In-cockpit Automation System) was initiated by DARPA and has been tested at Sikorsky, a number of on-board systems have been updated to meet Phase 3 that gives the copter full autonomy.  To achieve this success, a number of new sensors and detector device types – as well as new surveillance systems – were used and are becoming available. Black Hawk helicopters were soon manned with pilot option control systems. Ranging radar, LiDAR and or multi-spectral image sensors offer high speed measurable data.  Remote cockpit devices are being upgraded for precision detection and tracking control and include higher speed digital electronics and high resolution display units for transmission back to home base. These, and other advancements, have helped focus on developing extended range unmanned helicopter and portable rotary UAV devices to assist in the battle-space.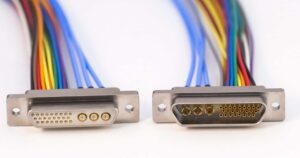 The design of remote pilot helicopters includes a myriad of high density, light weight on-board control and monitoring circuits. Many of these individual circuits must be interconnected to one another. This is often done using micro and Nano state-of-art cable and connector systems that offer high speed data and control processing.
Helicopter specific hybrid cable and connectors are being designed to carry both signal and power within one cable and this significantly reduces the space and weight of the complete system. This SWaP, (small, low weight and power), cable format is built to handle extreme environmental exposure and are ruggedized for high reliability.
Connectors and cable must offer continuous high signal integrity during constant vibration and occasional shock experienced in helicopter operations. Omnetics and other Micro and Nano connector developers have provided a number of variations of interconnect systems that specifically serve this rapidly growing industry. Small sized connectors depend heavily on constant metal-to-metal interface during use.  Helicopter manufacturers must focus on materials and design basics that have passed all the test specifications listed in MIL-DTL-83513 for the Micro size connectors and the specifications listed in MIL-DTL-32139 for Nano-D connectors.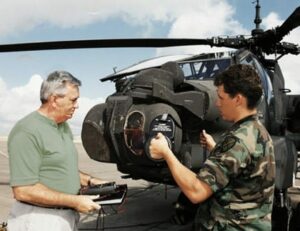 Unmanned helicopter/VTOL UAV designers can benefit from years of successful applications that connectors have supported in manned helicopters. Inside the cockpit, high-density displays are connected to the data computers via high-density strip connectors. In the Army's Arrowhead Apache's electro/optical fire control systems use micro connectors that operate the target-acquisition, day and night vision sensors as well as rangefinders and laser spot trackers.
To meet the rugged requirements of helicopters, connectors are constructed into unique shapes and wiring patterns – various connector formats are often required to match up the modular designs used in a helicopter. Ultra-low profile and rugged connectors are a perfect fit for inside-the-box. The key elements, pins and sockets, have passed QPL standard tests in complimentary designs – accomplished through the use of beryllium-copper spring metal-pins for mating and employ nickel and gold plating. The insulator body is molded of high-strength liquid crystal polymer or polyphenol sulfide, which provides excellent dielectric qualities to help manage signal quality and the ruggedness. Up to 30 gauge Teflon® insulated stranded wires are used to provide up to 1 Amp of current.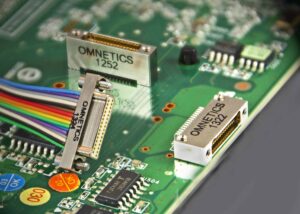 When required, micro spaced connectors can be adjusted to offer wire gauge up to 26 gauge and can route up to 3 amps of current. During assembly, wires are crimped to the contacts and sealed with an epoxy back-potting system that insures wire retention and strain relief. Many connectors are built-into machined metal housings that can support extra mounting bolts or clamps to the electronics.
Typically, helicopter designers can look through a COTs list of micro and Nano connectors and then specify adjustments to match their required form, fit and function. Connector manufacturers are staffed with application specialists to work online with system design engineers using solid models first-article connector design within the new systems, to provide rapid connector design services.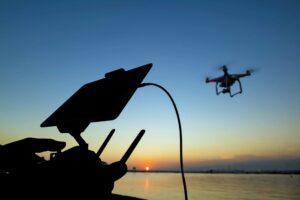 Shielding and EMI (electro-magnetic interference), is becoming a critical element in unmanned helicopters and VTOL drones. Drone-killer guns are being used to confuse and saturate the control signals used to route and steer remote helicopters. Those using GPS as a reference are just as vulnerable to the new jamming systems. Cables and connectors will often need to be made of metal and offer braided shielded cable connected to a metal frame in the helicopter control box. This and other design specialty items can easily be attained by having the system designer work directly with the connector designer.
Omnetics and other connector suppliers are continuing to offer standard connector designs, but customized standards are being used more often to meet SWaP expectations. As the range of unmanned helicopters is extended, and as demand for higher surveillance capabilities grow, we will see many new hybrid connectors.  These connector and cable systems will offer power to the surveillance units and simultaneously process up to 10 gigabits of data from camera to storage or transmission units.
In the future, connector body formats will evolve to match the higher quantity demands but will include both circular and rectangular body and case styles. In addition, power pin size and count will be increasingly determined by the electrical current demand needed at the surveillance device.
This article was contributed by Bob Stanton, Omnetics Connector Corp..
Visit the Omnetics profile page for an overview of connectors designed for unmanned systems >