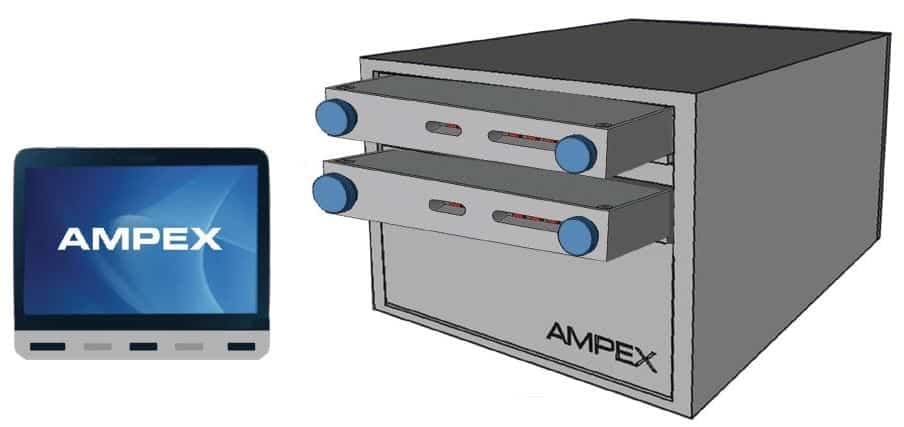 Ampex Data Systems has announced the launch of the nano-R, a data recording and processing system designed for rugged aerospace environments such as unmanned aerial vehicles (UAVs).
"The innovative nano-R Recording System confirms Ampex's commitment to supporting rugged applications within the aerospace community," said Jim Orahood, Vice President and General Manager. "Additionally, the nano-R Recording System offers the best value on the market, further developing Ampex's excellence at the edge."
The complete nano-R Recording System consists of three components: nano-R Intelligent Storage Elements (ISEs), which are rugged, removable modules that take the place of traditional removable memory bricks; the nano-R Deck, into which ISEs are inserted; and the nano-R Controller, a detachable touchscreen handset.
The system's core, the nano-R ISE, provides the intelligence to encode, format, store, stream, and share up to two channels of HD video while acting as a file server. Additionally, it utilizes state-of-the-art encoding technology from Ampex's sister company, Delta Digital Video, to produce MISB-compliant video streams that can be recorded and/or streamed over a network.
The nano-R Deck contains the system's power supply, the USB to network interface and an embedded switch, the video conversion logic, and slots for one or more nano-R ISE modules. The final component is the nano-R Controller, a detachable touch-screen handset that can run Windows 10 or Android, and provides a convenient mechanism to monitor and control the system. Additional display and control options are available for the nano-R system to interface with existing installations.