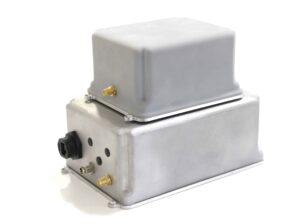 e2E Services Limited (e2E), a provider of satellite communications solutions, has announced the launch of a low power, compact and lightweight satellite communication terminal, called e2Eaccess UAS-I, for enhancing communications connectivity of small Unmanned Aircraft Systems (sUAS).
e2Eaccess UAS-I facilitates an improvement in the ability of sUAS to fly in EVLOS (Extended Visual Line of Sight) and BVLOS (Beyond Visual Line of Sight) conditions. e2Eaccess UAS-I easily interfaces with a variety of radio frequency modules and delivers connectivity at different operating frequency bands, making it highly adaptable to different forms of monitoring and communication, while remaining lightweight and compact as required for sUAS use.
The core e2Eaccess technology platform utilises Software-Defined Radio (SDR) infrastructure, which makes the product future-proof by allowing new features (e.g. waveforms and protocol stacks) to be added quickly and easily, without needing to upgrade or reconfigure the hardware. This SDR design approach is the outcome of a programme initiated and supported by the European Space Agency (ESA), which provided £4 million for technical due diligence. The product development was also funded by a grant from Innovate UK.
The e2Eaccess UAS-I is now available as an integrated product within an e2E satellite communications package or as a standalone modem (branded as e2Eaccess CDM). It is designed to meet the needs of the sUAS industry, but the core modem technology is suitable for any airborne vehicle.
Barry Ross, CEO of e2E, said: "We are delighted with this development of our e2Eaccess product range to satisfy the growing demand for EVLOS and BVLOS connectivity for smaller platforms. It clearly meets the needs of numerous applications, including inspection and monitoring of infrastructure, precision agriculture, search & rescue, and mapping – to name a few. We are grateful to the ESA who assisted us with identifying a new and pioneering developmental approach designed and proven through a multi-phased product development contract."
Mario Sforza, Head of Sales & Marketing at e2E, added: "The e2Eaccess terminal will change the way the UAS and satcom communications industries operate and we have already received significant interest from sUAS operators and original equipment manufacturers. We are excited about the commercial launch of this product and look forward to seeing its impact on the industry."