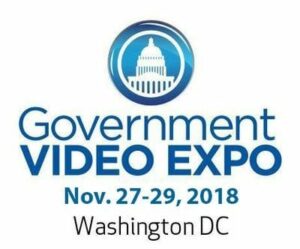 Future plc, a leading information and event producer for professional communications, entertainment and education technology markets, has announced partnerships with three leading media and technology organizations for the 23rd Annual Government Video Expo.
Government Video Expo will be held at the Walter E. Washington Convention Center in Washington D.C. November 27-29, 2018. The event is the Mid-Atlantic region's premier event for video, broadcast and AV production professionals serving the government, education, non-profit and broadcasting sectors.
This year, the event is offering more education and training sessions than ever before with additional free expo floor speaking sessions and co-located events produced by the respected FGDLA, SMPTE®, and FMC organizations:
The Federal Government Distance Learning Association (FGDLA) will be producing the Government Learning Technology Symposium (GLTS). GLTS is the Federal Government Distance Learning Association's premier event.
Uniquely focused on the needs of Federal Government distance-learning professionals, this event provides a venue for attendees to make connections, discuss the latest developments, and identify new regulations and trends that affect the industry. The FGDLA is also hosting its annual awards, recognizing Federal Government agencies and organizations for their excellence in distance learning.
FGDLA Executive Director Jolly Holden remarked, "Co-locating with Government Video Expo provides us with a special venue to enhance the knowledge and skill sets of distance-learning professionals in all areas of government. As skills and technologies advance, we have a special role to play to ensure our workforce is equipped for the future."
The Society of Motion Picture and Television Engineers® (SMPTE) will present a one-day learning session focusing on these areas of high interest to those in the technology end of video production:

Fundamentals of UHD and HDR
Media Infrastructure (SDI, SMPTE ST 2110)
Moving professional media over IP
Difference between broadcast and streaming
Testing and monitoring an IP facility
The full schedule for the one-day learning session will be available in the coming weeks.
SMPTE Director of Education Joel E. Welch remarked, "This is a unique opportunity for SMPTE to further engage the Mid-Atlantic professional community on the evolution of video technology and distribution. The industry is evolving, and we are pleased to be partnering with Government Video Expo to help lead the transformation."
Future Media Concepts will once again produce its well-known three-day advanced training event. The DC Post | Production Conference is designed for professionals in TV, video, film, motion graphics and new media who wish to maximize their creativity and efficiency and improve their technical skills.
Sessions are geared toward intermediate to advanced professionals and are presented theater-style with ample time for Q&A. The conference runs three full days in four parallel tracks. FMC President Ben Kozuch commented, "Video production professionals are telling us they rely on this annual event to keep their knowledge and skills competitive as more is demanded of them by their companies, clients and audiences."
In addition to these three co-located events, the Government Video Expo floor will feature two theaters with continuous live presentation sessions. Highlights include:
CNN Correspondent and Emmy Award-winning Journalist Tom Foreman
PBS NewsHour Anchor & Managing Editor Judy Woodruff
Nature Conservancy Director of Film & Video Toby Hayman
Consumer Technology Association Vice President, Market Research Steve Koenig
Twitch Director of Esports Sponsorship Sales Nathan Lindberg
ModernEpic CEO Aaron Lewis
DC Visionaries CEO and COO, Shane Yeager and Celene DiStasio
VArtisans VR Director Mark Lambert
CreativeMediaMatters Executive Director Gail McCabe
TVU Networks CEO Paul Shen
US Air Force Technology Network Director Dr. Phillip Westfall
Future US Executive Vice President Carmel King commented, "This will be the best year yet for Government Video Expo. We are proud to be offering the Mid-Atlantic creative community more opportunities to learn and connect. We want our community to continue on the bleeding edge of technology."
For the full schedule of events, and to register, please click here.
For exhibition and sponsorship information, please contact Jackie Gospodinoff