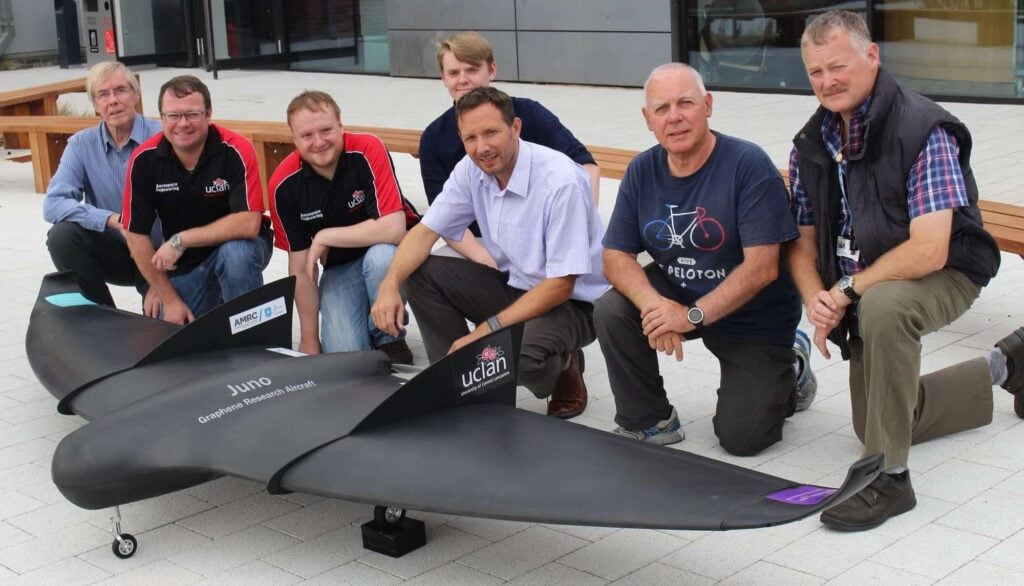 The University of Central Lancashire (UCLan) has announced that it has unveiled the world's first graphene skinned unmanned aerial vehicle (UAV). Juno, a three-and-a-half-metre wide graphene skinned aircraft, was revealed on the North West Aerospace Alliance (NWAA) stand as part of the 'Futures Day' at Farnborough Air Show 2018.
The University's aerospace engineering team has worked in partnership with the Sheffield Advanced Manufacturing Research Centre (AMRC), the University of Manchester's National Graphene Institute (NGI), Haydale Graphene Industries (Haydale) and a range of other businesses to develop the UAV, which also includes graphene batteries and 3D printed parts.
Billy Beggs, UCLan's Engineering Innovation Manager, said: "The industry reaction to Juno at Farnborough was superb with many positive comments about the work we're doing. Having Juno at one the world's biggest air shows demonstrates the great strides we're making in leading a programme to accelerate the uptake of graphene and other nano-materials into industry."
"The programme supports the objectives of the UK Industrial Strategy and the University's Engineering Innovation Centre (EIC) to increase industry relevant research and applications linked to key local specialisms. Given that Lancashire represents the fourth largest aerospace cluster in the world, there is perhaps no better place to be developing next generation technologies for the UK aerospace industry."
Previous graphene developments at UCLan have included the world's first flight of a graphene skinned wing and the launch of a specially designed graphene-enhanced capsule into near space using high altitude balloons. UCLan engineering students have been involved in the hands-on project, helping build Juno on the Preston Campus.
Haydale supplied much of the material and all the graphene used in the aircraft. Ray Gibbs, Chief Executive Officer, said: "We are delighted to be part of the project team. Juno has highlighted the capability and benefit of using graphene to meet key issues faced by the market, such as reducing weight to increase range and payload, defeating lightning strike and protecting aircraft skins against ice build-up."
David Bailey Chief Executive of the North West Aerospace Alliance added: "The North West aerospace cluster contributes over £7 billion to the UK economy, accounting for one quarter of the UK aerospace turnover. It is essential that the sector continues to develop next generation technologies so that it can help the UK retain its competitive advantage. It has been a pleasure to support the Engineering Innovation Centre team at the University in developing the world's first full graphene skinned aircraft."
The Juno project team represents the latest phase in a long-term strategic partnership between the University and a range of organisations. The next step is to fly Juno and conduct further tests.