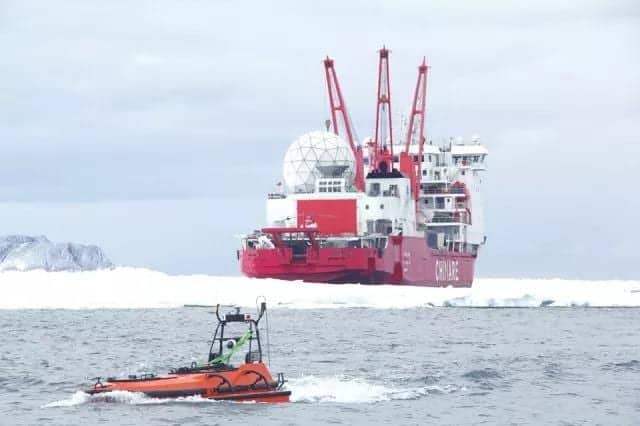 Oceanalpha has announced that its unmanned surface vessels (USVs) have been sent to Antarctica in order to perform an underwater topographic survey. The survey was performed to aid the "Snow Dragon", a research vessel sent to perform China's 34th Antarctic scientific expedition mission and to aid the establishment of China's fifth Antarctic research station.
Because that particular area of the sea had never been explored before, and existing geographical data was sparse, the challenge of finding the right anchorage for the "Snow Dragon" needed to be solved.
The research team turned to state-of-the-art unmanned vessel technology for a possible solution. After a series of upgrades and rigorous tests, Oceanalpha provided a solution comprised of 4 unmanned boats – one large-size M80 boat and three smaller ME40 vessels.
As planned, the "Snow Dragon" and Oceanalpha's unmanned boats arrived in Rosesea. The unmanned vessels had a limited time to complete their tasks so as to provide "Snow Dragon" with up-to-date data in real time.
The meteorological conditions in the region are highly complex. The instant wind speed can be as high as 40m/s, and the temperature is 10 degrees below zero. The structural strength of the boat hulls was greatly challenged when operating at such low temperatures for a long period of time. To ensure stable performance, Oceanalpha engineers performed in-depth research into hull structural strength and performance of power systems and electronic components in order to achieve a working design.
In approximately 20 hours, the four unmanned boats completed the topography survey with a multi-beam coverage of 5 square kilometers. The M80 was responsible for scanning the deep-water area, while the smaller boats surveyed the shallower area near the shore. The unmanned boats filled the data gap in the region, providing spatial geographic information and data support for the construction of the Antarctic expedition station.