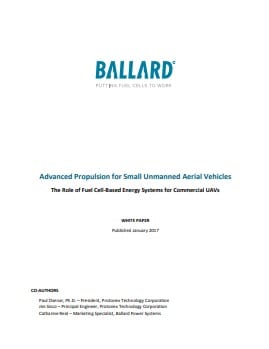 Ballard Power Systems, a leading provider of innovative clean energy solutions and fuel cell technologies, has released a whitepaper outlining the role of fuel cell-based energy systems in the propulsion of small commercial unmanned aerial vehicles (UAVs).
Download the full whitepaper from Ballard's website
The paper gives details of:
The limitations of current UAV propulsion technologies, such as batteries and small internal combustion engines
Design considerations for a fuel cell powered UAV, including fueling options and hybridization
Ballard's PEM (proton exchange membrane) fuel cell propulsion module and the stages of a typical UAV integration project
The paper is illustrated with case studies featuring fuel cell-powered unmanned aerial systems such as the Naval Research Laboratory's Ion Tiger and an augmented version of Insitu's ScanEagle platform. To find out more, download the whitepaper from Ballard's website.
Find suppliers of Fuels Cells for unmanned applications >