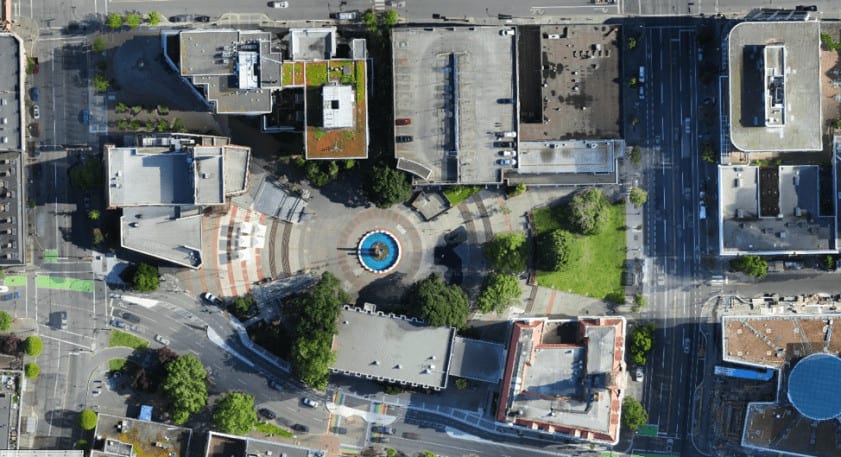 Global UAV Technologies Ltd., along with UAV (unmanned aerial vehicle) consulting firm InDro Robotics Inc. and High Eye Aerial Imaging Inc., has concluded the first UAV mapping mission over a major Canadian metropolitan city. The first of its kind operation, flown over the downtown core of Victoria, B.C., was completed for the City of Victoria's Emergency Management Division and conducted alongside members of Transport Canada.
Two flights were completed covering an area of 1.5 square kilometers with approximately 1000 high-resolution drone acquired images collected. The survey was completed in one day by a professional flight crew which included personnel from InDro Robotics, Global UAV Technologies Ltd., and High Eye Aerial Imaging Inc. The flight was conducted with a Sensefly eBee plus RTK/PPK UAV.
"This first of its kind operation signals a significant achievement for High Eye, InDro and Global UAV. The ability to safely operate a UAV over a populated downtown core without interrupting people's daily commute is a milestone event and will aid in progressing UAV regulations in Canada. The successful collaboration between Global UAV, InDro Robotics, Transport Canada and the City of Victoria on the project provides a foundation for future collaborations on similar missions." said Jeremy McCalla, Global UAV Technologies' Business Development and Operations Manager.
"Transport Canada's willingness to work with the team to ensure this mission, vital to emergency planning and preparedness, could be flown in an efficient and safe manner has provided not only a wealth of data for emergency response but also a new depth of knowledge for future operations in such environments." stated Phillip Reece, CEO of InDro Robotics.