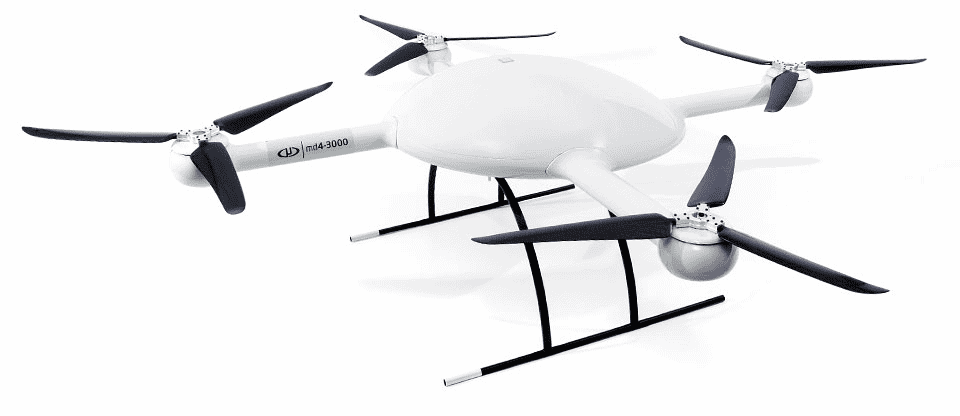 Microdrones has announced that its md4-3000 UAV has been added to Transport Canada's (TC) exclusive list of compliant unmanned aerial vehicles. To date, only fifteen manufacturers worldwide have achieved this distinction.
Vivien Heriard-Dubreuil, president of Microdrones, explained why this is important, not only in Canada, but internationally. "Professionals across all continents view Transport Canada compliance as a benchmark for aviation safety, quality, consistency and reliability. At Microdrones, we design and build our integrated solutions around the needs of demanding commercial users; the aircraft is the backbone of our offering, enabling long, safe flight times, and resistance to harsh conditions."
Sebastien Long, sales manager for Microdrones in Canada added: "Last year our md4-1000 aircraft achieved Transport Canada compliance. Adding the md4-3000 to this list provides my customers in Canada with more options for heavier sensors; our md4-3000 can carry payloads up to 5kg/11lbs."
Recognized as having one of the safest, most successful civil aviation programs in the world, Canada's record is largely attributed to the efforts of Transport Canada. The organization works diligently with domestic and international partners to maintain a pristine safety and security record.
Microdrones was required to submit detailed application materials, including flight, maintenance, and design manuals in order to achieve Transport Canada compliance.
Microdrones Flight Operations and Production Manager, Jocelyne Bois said: "Selecting a compliant UAV enables professionals to apply for a Compliant Operator Certificate from Transport Canada. This will give them additional privileges and is prerequisite to flying Beyond Visual Line of Sight. That's increasingly going to be an important distinction for professional drone geomatics work."
Transport Canada compliant operators may be granted greater geographic flexibility, like flying in restricted areas, closer to airports or cities, and beyond the visual line of sight. They may also benefit from extended validity, streamlined renewal, and priority processing of Special Flight Operations Certificates (SFOC).
Mike Hogan, sales director for Microdrones explained, "This is an important step in our development as the world leader in professional unmanned systems. Microdrones developed the world's first commercial quadcopter more than ten years ago and today our mdMapper, mdLiDAR and mdTector solutions lead the industry for aerial surveying via photogrammetry and LiDAR, as well as methane gas detection."