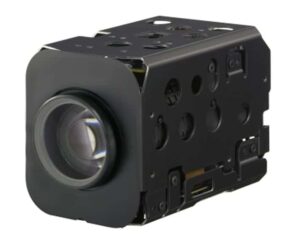 FRAMOS has announced the availability of two new Sony industrial 4K functional camera blocks, the FCB-ER8530 and FCB-ER8550. The new cameras provide QFHD resolution video from an 8.5 Megapixel back-illuminated image sensor with high clarity and detail, and are ideal for unmanned aerial vehicle (UAV) applications such as situational awareness and surveillance. The highly compact units offer electronic image stabilization, improved night-time performance, and up to 30x equivalent optical zoom (using the Super Resolution Zoom feature).
The high image quality of both camera blocks starts with a 1/2.5 type Sony Exmor R CMOS sensor with a pixel array of 3,840×2,160 QFHD, complemented by Sony image processing and lensing. Each model supports electronic image stabilization to avoid artifacts resulting from sustained rough shaking or vibrations in moving applications. An optional true Day/Night feature improves night time performance and enables 24/7 operation in variable lighting conditions. Customers can choose from eight video output formats from HD to 4K, via an industry standard HDMI 1.4b interface.
Darren Bessette, Category Manager Devices at FRAMOS, says: "Both the FCB-ER8530 and FCB-ER8550 open up many new applications for high-quality video capture across multiple industries. In addition, the FCB-ER8550 offers a precise external synchronization feature for multiple camera configurations seen in many AR, VR and Sports Broadcast applications. Also, frame synchronization with externally modulated light sources can be easily coordinated and deployed. Though this product is targeted primarily to Surveillance and Traffic deployments, innovative applications and emerging technologies like 3D imaging in Medicine or Modelling, AR/VR systems or Sports Broadcasting, benefit greatly from the rich feature set provided by these cameras."
Both cameras come with Sony's unique Super-Resolution-Zoom (SRZ) technology. This technology enables the camera blocks to deliver an equivalent of 30x optical zoom at full 4K resolution. The compact form factor of 50mmx60mmx93mm enables the devices to fit into the space constrained environments of unmanned systems. The devices are comparable in size to the popular 1080P FCB-EV7520, allowing engineers to take advantage of an easy upgrade without necessarily changing mechanical designs.