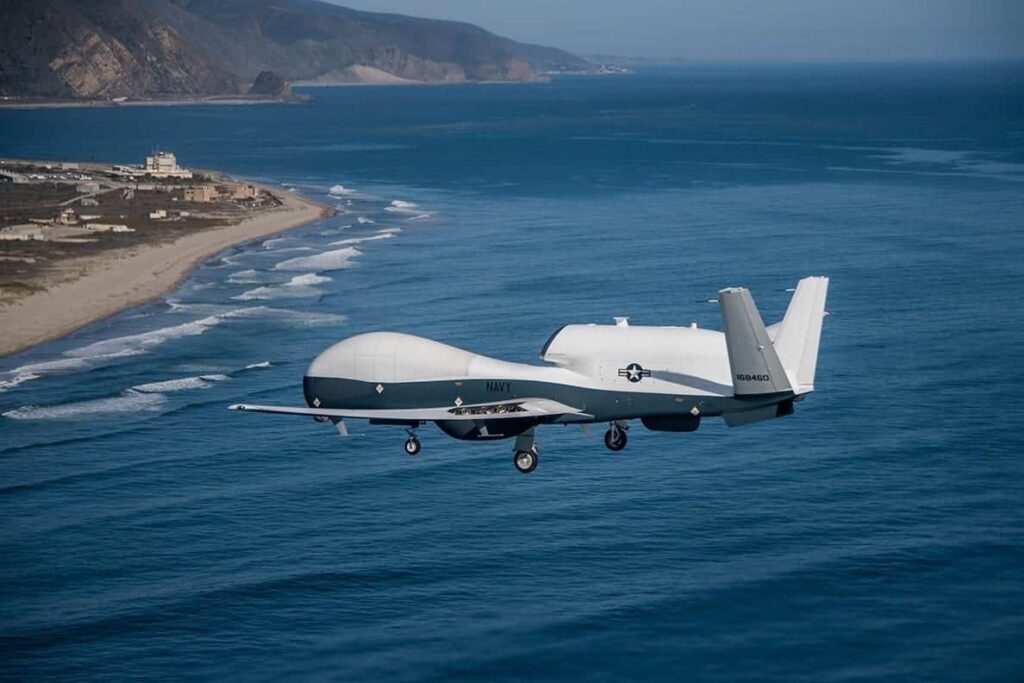 Northrop Grumman has announced that the Australian Department of Defence will purchase up to six MQ-4C Triton Unmanned Air Systems (UAS). An unmanned aircraft system with an autonomous capability built for maritime intelligence, surveillance and reconnaissance, Triton is the first Northrop Grumman-built aircraft system Australia has purchased. The system will be operated by the Royal Australian Air Force (RAAF) alongside the P-8A Poseidon to support its maritime patrol and other surveillance roles.
"Northrop Grumman looks forward to bringing the Triton unmanned system with its autonomous capability to Australia," said Ian Irving, chief executive officer, Northrop Grumman Australia. "Working with the Royal Australian Air Force and the U.S. Navy, we are confident that we can provide the best capability to fulfill Australia's maritime mission."
Triton can fly at altitudes of 55,000 feet for 24 hours at a time and is equipped with sensors that provide high-resolution imagery and near real-time video. Pilots and sensor operators fly the Triton from ground stations, which can command flights all over the world.
"Triton provides unprecedented endurance and 360-degree coverage through its unique sensor suite," said Doug Shaffer, vice president of Triton programs, Northrop Grumman. "Australia has one of the largest sea zones in the world over which it has rights to use marine resources, also known as an Economic Exclusion Zone. As a flexible platform, Triton can serve in missions as varied as maritime domain awareness, target acquisition, fisheries protection, oil field monitoring and humanitarian relief."
Triton builds on Northrop Grumman's legacy of success in autonomous systems. The U.S. Navy recently acquired two operational Triton aircraft and is under contract for six more. These aircraft will go to Guam and provide the Navy with an unprecedented common operating picture of the maritime environment. Triton can detect, classify and track ships over large swaths of ocean and littorals. The U.S. Navy program of record is for 68 aircraft.
Northrop Grumman will be the anchor tenant of an AUD $50 million Electronic Sustainment Centre of Excellence, to be established at the Badgerys Creek Airport precinct in western Sydney. The new centre will support advanced electronics such as communications and electronic warfare equipment, and targeting pods. Northrop Grumman will bring together highly skilled technicians, engineers and other professionals whose work will be further supported by the company's high-end technology and software expertise.
Through a Global Supply Chain Deed signed with the Australian Department of Defence in 2011 and renewed in 2017, Northrop Grumman is identifying opportunities for Australian industry to be part of the company's global supply chain. For example, Northrop Grumman's largest Australian F-35 Lightning II joint strike fighter supplier, Quickstep Technologies, demonstrated that its new production facility is equipped and qualified to manufacture and deliver quality composite parts for the F-35's centre fuselage. At a new facility opened in Bankstown, Sydney, in 2012, Quickstep is expected to manufacture over 36,000 parts for the F-35.
Northrop Grumman also works with CEA Technologies, one of Australia's leading military electronic systems and radar companies, and Electro Optics Systems, which develops products incorporating advanced electro-optic technologies for the global aerospace market.
"Australia and the United States are celebrating 100 Years of Mateship this year, marking an alliance that goes back to the trenches of WWI. Northrop Grumman is proud to partner with such a loyal friend and provide this unprecedented capability to the RAAF," said Irving. "We consider Triton and its autonomous technology to be the future of the next centennial of aviation, and we are honored to be part of this century-long partnership."