ALTI UAS, a leading developer and manufacturer of commercial unmanned aircraft systems (UAS), has partnered with Unmanned Systems Technology ("UST") to demonstrate their expertise in this field. The 'Silver' profile highlights how their VTOL (vertical take-off and landing) hybrid unmanned aircraft can be fielded for a wide variety of applications, including agriculture, infrastructure inspection, mapping and surveying, and security.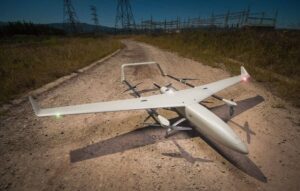 The ALTI Transition is a fixed-wing UAV with VTOL and hover capabilities designed for everyday civil and commercial use. It features a modular airframe that can be set up in under ten minutes and requires no runway or catapult to get airborne. Once aloft, the aircraft transitions into forward wing-bound flight for the duration of the mission. A smooth and level back transition into a solid hover allows the Transition to land virtually anywhere, quickly, reliably and safely.
The hybrid electric-fuel system provides an extended endurance of up to 12 hours. The ultra-lightweight carbon fuselage and highly advanced aerodynamic design provide the Transition with a low stall speed, efficient cruise with very low drag, excellent stability in high winds and an incredibly low MTOW weight of only 16kg.
An advanced autopilot system, featuring high-end components, GPS and sensors, incorporates redundant flight control and many other fail-safe features such as stall speed detection, overbank protection and velocity checks, resulting in highly reliable operation. The Transition's large open payload bay allows users to field and easily interchange a wide variety of sensors for flexible mission requirements.
The ALTI Reach is a currently in development unmanned aircraft that will be the highest-specification system in the UAS family that already includes the ALTI Transition. It will be aesthetically and configurationally very similar to the Transition, offering the same reliable, efficient VTOL capabilities and fixed-wing flight performance.
The aircraft will feature a wingspan of 6m, an endurance of up to 20+ hours and a payload capacity of 12kg.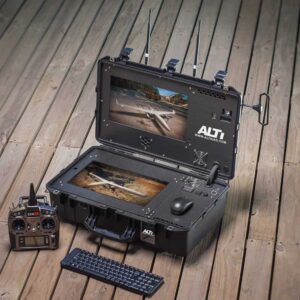 ALTI's advanced Ground Control System (GCS) is a complete control and command station for the ALTI Transition unmanned aircraft system. Contained within a single compact Pelican case, the system is built around a state-of-the-art computer with dual screens, pre-loaded with mission planning and control software, and is quick and easy to transport and set up.
The GCS features a main C2 control link for full time manual control and override, data telemetry and long range video, as well as a Spektrum DX Controller. An optional ALTI Range Extension Package adds a pneumatic telescopic mast, directional grid antenna and 10W Microhard amplifier, providing long range data and video operation at up to 100km.
To find out more about ALTI UAS and their hybrid VTOL unmanned aircraft, please visit their profile page:
https://www.unmannedsystemstechnology.com/company/alti/