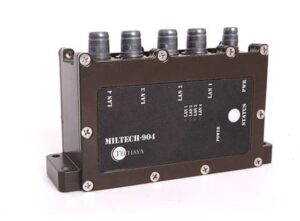 MilSource, the exclusive U.S.-based distributor for Techaya's military-grade and rugged Ethernet solutions for UAVs (unmanned aerial vehicles) and other unmanned systems, has announced software upgrades to its line of board-level, compact and ultra-compact rugged and MIL STD and managed Ethernet switches. The software delivers an enhanced feature set to support precision timing protocol (PTP) per IEEE 1588 V2, enhanced QoS, port control, Layer 2 features.
The Techaya products included in this upgrade include:
MILTECH919
MILTECH904
MILTECH918
MILTECH908
MILTECH912
MILTECH948
MILTECH914
MILTECH610 PoE
MILTECH910 PoE
To continue to support modern warfare requirements for GPS synchronization, these products will now support PTP passthrough (per IEEE 1588 V2), which enables the switch to pass PTP packets through the switch as normal multicast traffic (forward mode) and facilitates synchronization of all switch ports with the grand master clock (end-to-end transparent mode). Added line protection features include support for 1+1, 1:1 and 1:N switching redundancy. Administrators can choose whether to set failover schemes where failover lines remain idle until needed, or only used as backup, or to transmit low-priority traffic under normal network conditions.
New L2 switching features include: VLAN translation and E-Line, E-LAN and E-TREE to enhance multipoint connectivity. For heightened QoS, the products now support service policing, H-QoS scheduling and per ASP and EVC queuing and scheduling.