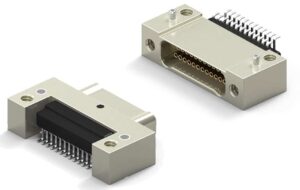 Ulti-Mate Connector, a provider of miniature connectors and interconnect solutions, has released a whitepaper outlining factors for consideration when integrating nano interconnects into miniature electronics designs such as those found in small unmanned aerial systems (sUAS) and other unmanned vehicles.
Download the full whitepaper from Ulti-Mate's website
The paper summarizes key considerations when choosing the right board-level Nano connector on a 0.025" pitch, such as:
Through-Hole vs Surface-Mount Termination
Packaging and Processing Surface-Mount Nano Connectors
The Connector /Printed Circuit Board Interface
Creating a Reliable Surface-Mount Solder Joint
Flat Leads vs Round Leads
Choosing the right interconnect solution is critical for successful design of modern rugged electronic systems and subsystems. To find out more, download the whitepaper from Ulti-Mate's website.
Find suppliers of Connectors for unmanned applications >