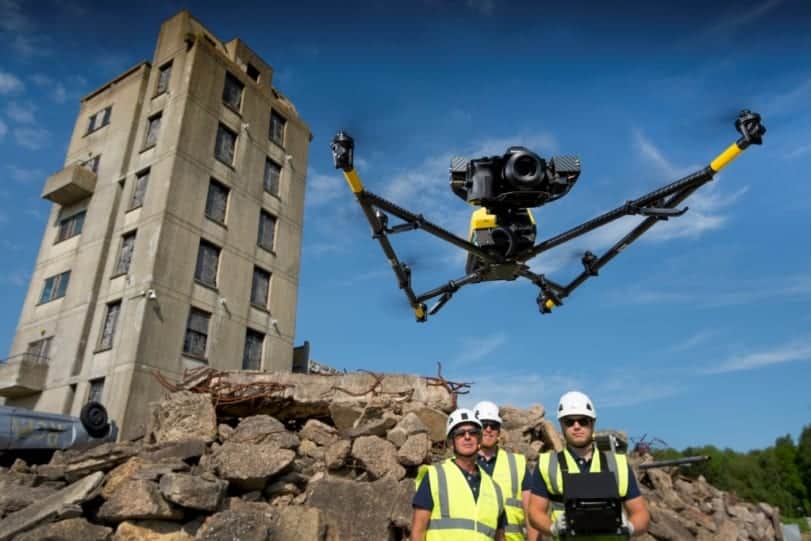 NATS, the UK air traffic control provider, and Sky-Futures, a provider of commercial drone-based inspection services and training, have unveiled a new combined training course for commercial pilots at a launch event featuring hi-tech drone search-and-rescue and inspection demonstrations at an emergency services training facility in Gloucestershire.
The demonstrations, which saw state-of-the-art Intel Falcon 8+ and DJI Inspire 1 drones conducting complex, high-spec inspections of mocked-up disaster sites including a collapsed building, showcased some of the practical skills-training offered by the new drone pilot course.
The combined Remotely Piloted Aircraft Systems (RPAS) course syllabus can be adapted to meet the individual needs of trainees working in specific areas such as construction, offshore oil and gas, or the emergency services for example, and encompasses in-depth theoretical instruction in airspace and safety as well as real-life scenario-based training. It is designed to ensure organisations can secure the Civil Aviation Authority permissions required for drone pilots to operate commercially, whilst providing expert guidance on using drones safely in professional or commercial environments.
The launch event was held at the Sky-Futures Training Academy near Oxford, situated at the UK Fire Service College outside Moreton-in-Marsh, Gloucestershire, where state-of-the-art drone pilot training facilities including mocked-up disaster scenarios including a ship, a railway line, an oil rig, metal towers and commercial buildings will be used for advanced inspection procedure training. The new combined course will also be taught at NATS' operational air traffic control centres in Swanwick, Hampshire, and Prestwick, Ayrshire (Scotland).
James Cranswick, NATS Drones Business Manager said: "This new combined course represents NATS' latest initiative aimed at promoting the safe integration of drones into the skies above us. We recognise that drones have huge potential to deliver benefits across society and to the UK economy, so it's essential that this industry aims for the highest possible safety standards from the start."
"By partnering with Sky-Futures to offer best-in-class combined practical and theoretical drone training, we hope to offer commercial drone operators the all-round training that will allow commercially-piloted drones to operate safely alongside the traditional aviation industry and deliver real benefit to their organisations and the UK as a whole."
Sky-Futures co-founder, Chief Regulatory and Training Officer and a qualified commercial airline pilot, Nick Rogers, said: "The combined strengths of Sky-Futures and NATS form the basis of a market-leading training partnership. Together, we will continue to work towards improving the overall standard of commercial drone pilot training and ensure that the UK remains at the forefront of this exciting industry."