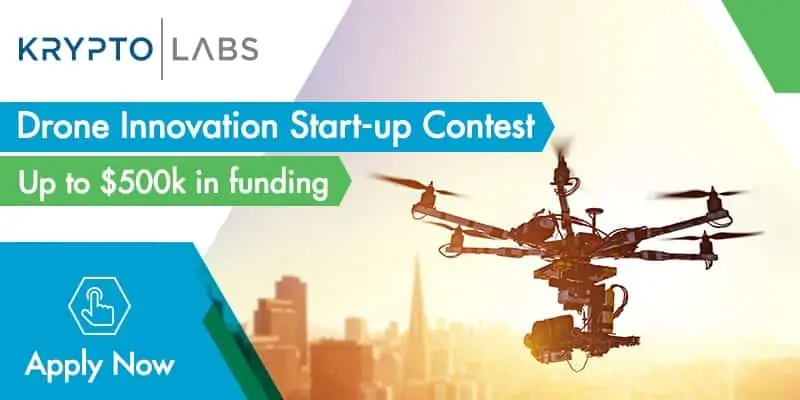 Krypto Labs, a company focused on the support and development of start-up businesses, have launched the "Drone Innovation Startup contest" aimed at highlighting the growing importance of the UAV industry.
Open to start-ups and innovators from around the world, the competition aims to recognize world–class innovators who contribute to redefine the conventional wisdom around aerial mobility and its entrepreneurial potential.
Following the application deadline on April 8, five finalists will be selected on April 22 and invited to pitch to the Final Day Jury at the final event that will be held in Abu Dhabi on May 6.
A judging panel consisting of industry experts, entrepreneurs and innovators will decide the winner of the USD 500,000 investment. The winning start-up will also have the opportunity to join the Krypto Labs incubation program and receive professional training, mentorship and access to Krypto Labs' world-wide network of experts and specialists.
To qualify, entries should offer innovative, intelligent and realistic technologies that disrupt markets and businesses, while also contributing to community development, and facilitating services
Dr. Saleh Al Hashemi, Managing Director of Krypto Labs, said: "From our state-of-the art hub in Abu Dhabi's Masdar City, we are turning ground-breaking concepts into successful, scalable companies. As a homegrown entrepreneurial ecosystem, we look forward to be a significant enabler for innovation in the UAE and beyond. In this prospect, DISC 2018 is the logical step for us at Krypto Labs, and it stands as the ideal platform for unearthing the best minds in the drone technology and Unmanned Aerial Vehicles (UAV) and Unmanned Aerial Systems (UAS) sector."
Krypto Labs is distinguished by the emphasis on human capital, innovation, creativity and transformation. Recognized in the industry as the newest innovation hub based in Abu Dhabi, it is committed to transforming future ready innovators into global champions who can compete on the international stage via accelerated, bespoke growth strategies that are specifically tailored to partnership and sponsorship.
To enter the competition, visit https://kryptolabs.com/contest/ and submit your entry by April 8.