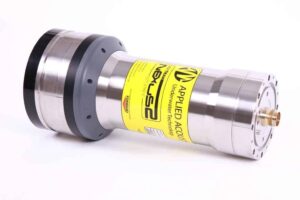 Applied Acoustics has introduced two new products from both its acoustic positioning and geophysical product lines.
The flagship USBL system, the Easytrak Nexus 2, is now available with a choice of transceivers – directional or hemispherical. The directional 2780 version can achieve long ranges (up to 3km) with a high degree of accuracy (0.1% slant range); while the omni-directional 2686 version is ideal for use in extremely shallow water (<2 metres). Sharing the same operating console, the transceivers can be inter-changeable.
In addition, the 1100 series of transponders now all feature data telemetry functions which can be utilised when used with the Nexus 2 USBL.  The transponders themselves can be used without telemetry with all Applied Acoustic USBL systems, as well as those from other manufacturers, thereby maintaining their overall flexibility.
To meet the challenges faced by surveyors involved in shallow water, ultra-high definition geophysical surveys, Applied Acoustics has re-designed the reliable Dura-Spark range. The sparker sound sources now feature faster rep rates, tuneable electrode banks and adjustable source heights, all resulting in clearer high resolution data, ideal for use in offshore wind farm surveys.