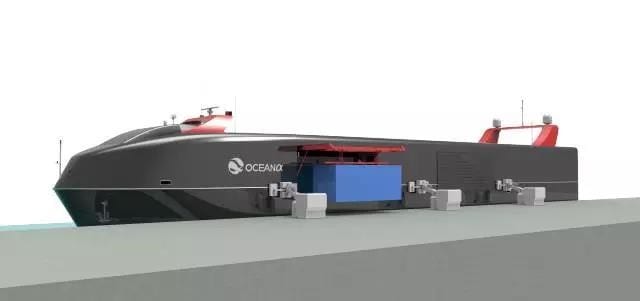 Oceanalpha has announced that, in conjunction with China Classification Society (CCS), Zhuhai Municipal Government and Wuhan University of Technology, it has launched a project to develop a small unmanned surface vessel (USV) for commercial shipping purposes, named Cloudborne.
Cloudborne will be a 500-ton vessel with a hull length of 50 meters, and the use of electric propulsion will give it a range of 500 nautical miles. Oceanalpha expects to launch by the end of 2018. Oceanalpha hopes that the new technology will lower the number of human-error incidents at sea, reduce labor costs and cut emissions by using batteries instead of gas.
Sun Feng, vice president of China Classification Society, introduced the characteristics of the project to the media at the Shanghai Maritime Exhibition. "It will be the first USV that is entirely domestically developed with Chinese technology and guided by the Bei dou navigation system," said Sun Feng.
Zhang Yunfei, founder of Oceanalpha, said in an interview that the small USV cargo ship was designed and constructed in full accordance with the unmanned cargo ship inspection specifications issued by China Classification Society and will mainly be used for inland navigation and island supply. "Over 70 to 80 percent of incidents that happened in the sea are man-made, and 40 percent of the entire running cost goes to human labor. Using USVs can largely reduce the cost and incidents. Also, the vehicle body is much lighter, which enables it to be powered by batteries instead of gas, efficiently cutting down the emission," Yunfei said.
In support of the R&D testing needs of small unmanned vessels, the project team, with the support of Zhuhai municipal government, will establish an industrial ecological platform based on the ship's pilotless operation. This will include an unmanned maritime testing ground, automatic mooring terminals, maritime communications and network security and other infrastructure to meet different types of unmanned testing needs and provide data and operational support for future unmanned shipping. Following Norway's world-first unmanned marine test site, the Zhuhai Wanshan Islands unmanned marine test site is the second in the world, and the first in Asia.
Oceanalpha has built a wireless broadband private network covering the Pearl River estuary of the Pearl River Delta. Combined with the public network, it forms a "long-range linkage platform" that connects many places so as to facilitate remote control of unmanned aerial vehicles.
In the future, with further progress of the project, the boat controllers from the Guangdong, Hong Kong, Macau and Tai Wan areas will be able to control the vessel remotely from the unmanned navigation control center.