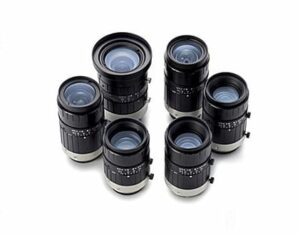 FRAMOS, a provider of specialist vision products for embedded systems, has announced that it is distributing Fujinon's HF-12M and HF-5M series of robust anti-shock & vibration lenses. The new Fujinon design has been tested under 10G and sine wave vibration at up to 500 Hz and 100 m/s², and is particularly suitable for applications in robotics and in high-vibration environments.
Most machine-vision installations utilize cameras with C-mount lenses with fixed focal lengths, which need to provide consistent image quality even irrespective of harsh conditions. Modern robotic arms are so powerful that they can move loads with several multiples of the acceleration due to gravity (unit G, 1 G = 9.81 m/s²). Robot-guided image processing systems must withstand these accelerations and are additionally exposed to the vibrations at the tip of the robot arms. The same applies to camera-lens setups on large machines with rotating elements.
Stephanie Simon, Lens Expert at FRAMOS, highlighted the importance of using ruggedized lenses: "Industrial vision systems are often exposed to severe mechanical stress and environmental factors. Bumping and vibration often cause a significant decrease in resolution and a shift in the optical axis. For customers with robotic applications, mobile systems or even fixed solutions in harsh environments, choosing a rugged and durable lens design is essential to ensure high image and analysis quality."
In the Fujinon test set-up, the lenses are tested for their robustness against shocks and vibrations, and are repeatedly exposed to shocks of up to 10 G and from 6 different directions perpendicular to the optical axis. Subsequently, sinusoidal vibrations according to IEC 60068-2-6 with up to 500 Hz and 100 m/s² are added. As a result, the optical axis of a conventional lens shifts by up to 26 µm, which is equivalent to about 7 pixels for second-generation Sony Pregius sensors. Measured by contrast charts, the resolution decreases dramatically, the lenses will become useless. For developers of mechanically stressed imaging systems, it is therefore important, in addition to the optical format, the resolution and the focal length of their lenses, to pay particular attention to the robustness against shocks and vibrations.
Fujinon's anti-shock & vibration design is based on a patented elastic fixation of the internal lens arrangement, which not only provides long-term protection against shocks and vibrations, but also works well with changes in humidity and temperature. The optical axis shifts only by 4 to a maximum of 10 microns, dependency on adhesives is minimized and a long-term stable performance and consistently good image quality is guaranteed.