NavCom Technology, a leading developer of advanced GNSS solutions for systems integrators and OEMs of unmanned vehicles, has partnered with Unmanned Systems Technology ("UST") to demonstrate their expertise in this field. The 'Silver' profile highlights how their positioning technologies enable precise navigation and surveying for UAVs (Unmanned Aerial Vehicles), UGVs (Unmanned Ground Vehicles) and other robotics systems.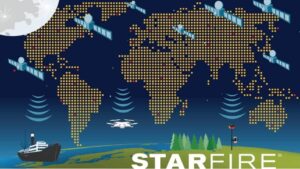 The StarFire™ Global Correction Service provides real-time GNSS satellite orbit and clock corrections that result in positioning accuracy of typically better than 5cm (<2 inches). Coverage is virtually worldwide (from 72ºN to 72ºS latitude) and enables precise real-time navigation without the need for local ground base stations.
The highly robust system boasts an uptime of 99.999% and utilises redundant data links, geographically separated processing hubs, and dual satellite uplink equipment to ensure continuous service. StarFire™ outputs one set of corrections for the entire world, giving it a distinct advantage over traditional differential GNSS (dGNSS) systems.
In addition to the standard StarFire™ subscription service, NavCom also provides select StarFire™ Reference Data for more specialized application areas such as drone survey post-processing, military mission planning and navigation simulation. This reference data includes Real-time GPS Satellite Data, Real-time StarFire™ Corrections, Real-time Timing Reference Data and Archived Satellite Data & Corrections.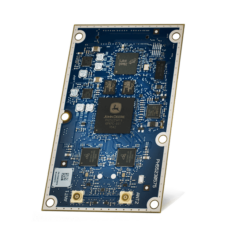 The Onyx OEM GNSS Board is NavCom's next-generation GNSS engine that provides 255-channel high sensitivity/low signal level tracking and multi-constellation support (GPS, GLONASS, Beidou, Galileo). With a compact form factor and integrated StarFire™ technology that provides global positioning to five centimetres, Onyx is ideal for high accuracy surveying applications, as well as control and guidance of unmanned vehicles such as UAVs.
The Onyx supports StarFire™ technology on 3-separate channels, providing on-board capability for tracking redundant or enhanced signals. Onyx also features patented interference rejection and anti-jamming capabilities.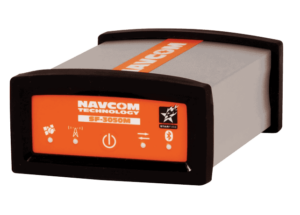 The SF-3050 is a 66-channel GNSS receiver with integrated StarFire™ technology and multi-constellation support for GPS and GLONASS. Fully upgradeable with a wide variety of capability options via software updates, the SF-3050 is a highly flexible system that is ideal for any GNSS positioning application for a variety of unmanned vehicles.
The SF-3050 includes powerful built-in patented interference rejection and anti-jamming capabilities, and also incorporates high-speed I/O components, including serial RS232/422, Ethernet, Bluetooth and USB.
To find out more about NavCom Technology and their GNSS positioning products, please visit their profile page:
https://www.unmannedsystemstechnology.com/company/navcom-technology/