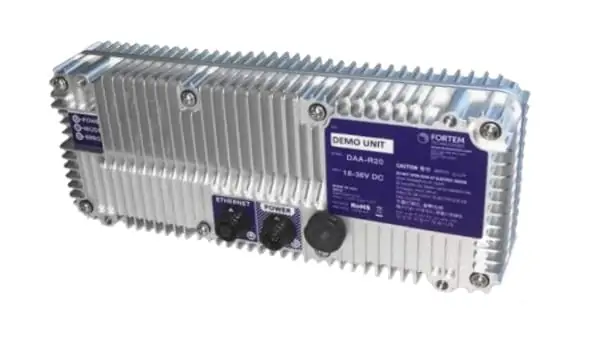 Fortem Technologies has announced the availability of TrueView R20,a compact, high-performance detect-and-avoid radar solution for unmanned aerial vehicles (UAVs).
Fortem's radar technology has been hardened over the past six years through rigorous testing with the US Department of Defense. TrueView extends this technology to detect potential air-to-air collisions and enables unmanned aircraft to safely navigate beyond-visual-line-of-sight (BVLOS) day or night and in clouds, fog, smog and other challenging weather conditions.
"One of the biggest challenges for the UAS industry is the ability to detect other aircraft and stay well clear from potential collisions. Achieving safe autonomous flight beyond-visual-line-of sight is going to be the next big chapter for the aviation industry," said Jared Essleman, Director, Utah Division of Aeronautics. "The announcement of TrueView R20 technology is an exciting development for safe autonomous operations, allowing UAS to course correct as needed to mitigate risk."
Using AI algorithms, TrueView provides accurate real-time situational intelligence and awareness for safe, autonomous, unmanned aircraft operations. Fortem TrueView R20 weighs 1.5 lbs. and features a low SWaP-C (size, weight, power and cost) profile.
Find suppliers of Sense & Avoid solutions for UAVs >
"We are proud of our progress and ability to innovate around one of the most daunting challenges in the drone industry; namely safe BVLOS and nighttime operations," said CEO of Fortem Technologies, Timothy Bean. "With TrueView, we have responded to feedback from our customers to bring this needed detect-and-avoid product to a worldwide market."
In related news, Fortem Technologies, Inc., announced that it is working with Lead Pilot Partners to further the Trump Administration's new Unmanned Aircraft Systems Integration Pilot Program (UAS IPP). The program aims to accelerate safe integration of UAS into the national airspace. Fortem's TrueView R20 meets critical selection criteria by putting safety and security data at the forefront to enable expanded drone operations such as BVLOS and operations at night.