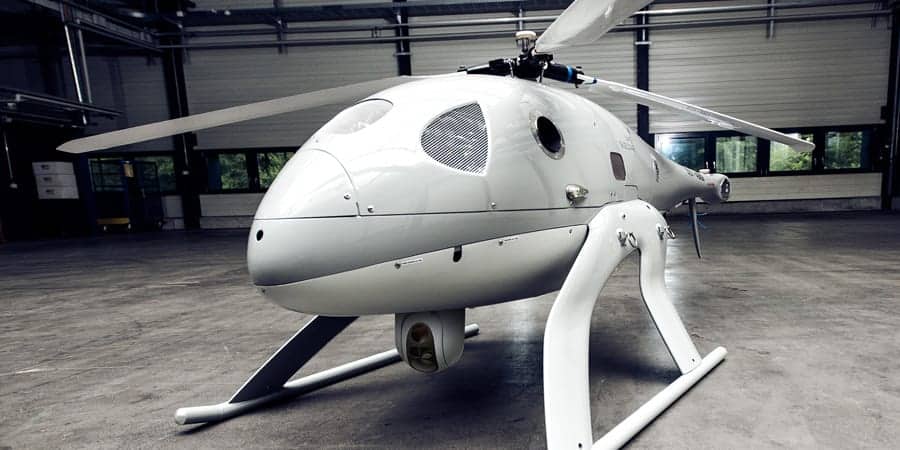 UMS SKELDAR, a provider of rotary Unmanned Aerial Vehicle (UAV) solutions, has announced the launch of its new enhanced R-350 Vertical Take-Off and Landing (VTOL) platform. The ITAR-free light tactical high-performance UAV has the ability to carry payloads of up to 30 kg for over two hours, and also incorporates a jet-turbine engine propulsion system that uses Jet A1 and JP8 heavy fuels.
"The new R-350 platform is the ideal partner for our market-leading SKELDAR V-200," explained David Willems, Business Development Director for UMS SKELDAR. "With target sectors including coast guards, border patrol agencies, emergency services, fire departments, military logistics resupply of front lines, medical supply and cargo delivery to name a few, the R-350 has been designed as an easy to use, simple to maintain UAV that can assist organisations with smaller critical activities that ordinarily would entail manned crews taking on at an increased cost."
Designed around a modular system concept, the R-350 can easily be certified for aerospace classifications and combines a short turnaround time and built-in test functionality. In addition, the new platform includes a complete propulsion unit that can be replaced in less than 45 minutes, and a jet turbine that can be changed in less than 15 minutes. Being under 150 kg Maximum Take-Off Weight (MTOW), the R-350 requires only national certification, adding to its ease of use and operation. It can also deploy multiple payloads at the same time, for example Electro Optical/Infrared (EO/IR) camera together with Laser Imaging Detection and Ranging (LIDAR) or Chemical Sniffer.