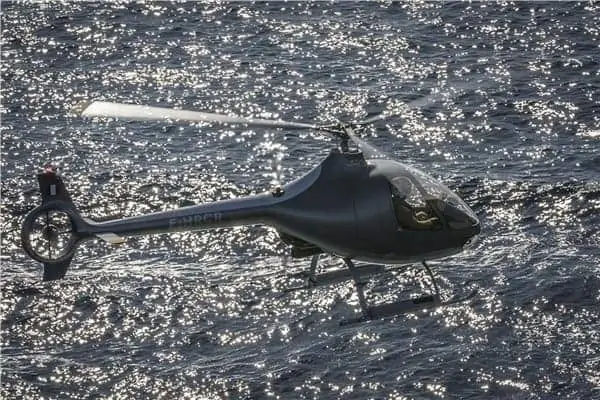 Airbus has announced that it is developing a new unmanned helicopter, the 700 kg Vertivision Surveillance Rotorcraft (VSR700), which is designed for use on board ships that need unmanned aerial vehicles (UAVs) to transmit images and data back to the bridge from beyond the horizon. The aircraft is being developed by Airbus' helicopter division in Marignane, France in cooperation with Helicoptères Guimbal, a specialist in aerospace and aeronautics.
"The Earth's curvature means a frigate can survey an area of about 100 km," said Régis Antomarchi, who heads the programme to develop the rotary-wing UAV and bring it to market. "With the VSR700, this radius is multiplied many times over." Antomarchi added: "Ship-borne UAVs are already available, but they are either lightweight, and therefore not powerful enough to carry the necessary instruments, or they are relatively large, making operation more complex. The VSR700 fills this gap."
The VSR700 is based on the civil Cabri G2 developed by Guimbal, a light, single-engine, diesel-powered helicopter. With a fuel consumption of 15 kg per hour, the UAV is expected to stay airborne for up to 10 hours. The payload of around 250 kg is intended for optical reconnaissance instruments and radar. In cooperation with French shipbuilder Naval Group, Airbus is also offering a solution for the new medium-sized frigates tailored specifically to the requirements of the French Navy.
"We are moving quickly to stay ahead in the marketplace," says Antomarchi. Hence a pilot-operated flight control system was added to the VSR700 equipment for its first test flights as an optionally piloted vehicle (OPV). "The initial tests are taking place with the safety pilot on board before unmanned flights begin next year," he says.
Airbus test pilot, Olivier Gensse, was on board the VSR700's first flight in May 2017. Gensse knows the Cabri G2, the basis for the VSR700. Before he joined Airbus he worked for Helicoptères Guimbal, where he piloted the Cabri on its maiden flight and accompanied its certification process. As chief test pilot on helicopters in Marignane, Gensse not only flies the VSR700, he also spends time rigorously testing the H160 helicopter prototypes.
"During the VSR700's maiden flight I had two tasks: ensure safety and test the new technologies," he said. "We are testing the systems in flight at an early stage, which means we can't rule out possible problems. If something does go wrong I can take over the controls on board." That was exactly the case during the flight, when Gensse intentionally pushed the automatic flight control system to its limits. Gensse and his team are testing the VSR700 at Aix-Les-Milles Aerodrome, where Helicoptères Guimbal has its production facilities. "The process is in line with the usual standards," said Gensse. "Together with the team we go through the safety procedures, then I activate the safety system so that I can intervene if necessary. On the maiden flight we then started the UAV flight control system and the aircraft took off autonomously. We also tested hovering using the autonomous flight control system and carried out various manoeuvres in stable flight. And we tested the limits of the technology. This time, landing was still my responsibility as the pilot."
For a test pilot like Gensse, there is very little difference between flying the VSR700 and conducting a traditional helicopter test flight. "We follow the standard procedures and even the tests on the autonomous flight control system are similar to the test flights with our highly developed helicopter autopilot," he said. "One important difference may be that there are usually two people in the cockpit in a helicopter: a pilot and a flight test engineer. There is only room for one in the VSR700. That's why I record my observations and then we run through them afterwards."
The team he relies on "has to work perfectly. The pilot is simply the visible tip of the iceberg. He's on the photo and everyone says: 'How amazing, he performed the maiden flight.' You must remember, though, all the essential work that has to be done before that – by the developers, the prototype builders, the mechanics, the team at the ground station and so on. The actual flying of the helicopter is the easiest part."