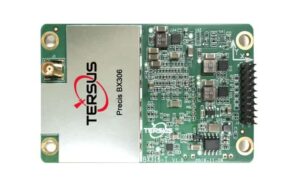 Tersus GNSS, a manufacturer of high precision GNSS RTK boards, receivers and systems, has announced a major upgrade to its Precis-BX306 RTK board with new and improved GPS/GLONASS functionality.
The new version of Precis-BX306 supports up to 20Hz RTK solution and raw measurement output, which can be integrated with autopilots and inertial navigation units for manned and unmanned aircraft. With improved algorithms, the new Precis-BX306 demonstrates that the 30 km baseline can be fixed quickly, and the dynamic fix rate has also been improved. The board can achieve stable fix rate even in valleys, wooded areas, and other challenging environments.
"The technology changes made in this version give a whole new user experience for our customers," says Xiaohua Wen, founder and CEO. "With the updated capabilities, the Precis-BX306 is particularly useful for drone-related, surveyors and geographic information system data users interested in an affordable RTK solution."
This latest version of Precis-BX306 is pin-to-pin compatible with major GNSS boards in the market, offering a flexible interface. Event mark and PPS continue to be supported.