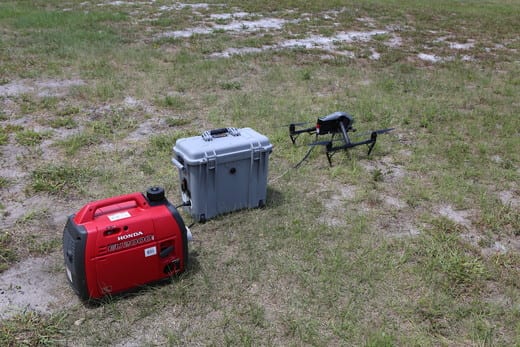 Drone Aviation Holding Corp., a manufacturer of tethered drones and lighter-than-air aerostats, and Drone Nerds, a commercial drone sales and service organization, have announced that the two companies have partnered to launch the first commercial sales program for the FUSE Tether System designed for the DJI Inspire 2 and new Matrice 200 (M200) professional drones.
The new program will focus on commercial end-uses including security and monitoring of facilities such as power plants, ports, and bridges as well as by public safety, law enforcement and newsgathering organizations. Additionally, the program also will highlight the role of tethered drones in critical infrastructure inspection and Enterprise Asset Management (EAM). For these applications, enhanced flight duration along with high quality imaging systems such as the M200's Zenmuse Z30 aerial camera with 30x optical zoom, makes image data collection faster, providing critical, real-time information to users.
"As the largest DJI-authorized reseller of drone hardware and services in the United States, Drone Nerds is an ideal partner for Drone Aviation, allowing us to expand the market for our tethered aerial solutions beyond the military into the commercial sector," said Jay Nussbaum, Chairman and CEO of Drone Aviation Corp. "Drone Nerds is the latest example of aligning our business with established channel partners to leverage our patented technology and create new revenue opportunities for the Company, in particular, the large and growing commercial marketplace."
"Our commercial drone customers have been seeking a solution to the challenge of limited flight time and with the FUSE Tether System for the DJI Inspire 2 and new M200 drones, we are now able to address an unmet critical need. By partnering with Drone Aviation, we are bringing this unique and compelling solution to this growing market and significantly improving the effectiveness of drone technology for commercial customers," added Jeremy Schneiderman, CEO of Drone Nerds, Inc.
The FUSE Tether System is comprised of a customized, patent-pending power pack and an Automated Smart Tension Control Winch Case with 200ft. of tether supporting 110-volt ground power sources including portable generators. With the FUSE tethering system, DJI Inspire 2 and M200 users can now increase drone flight time with uninterrupted power from the ground while benefiting from improved safety. Safety is enhanced by FUSE's use of an onboard backup power pack and tether connected to the proprietary automatic tether tension management system. FUSE is based on the same military-grade advanced technology utilized in Drone Aviation's tethered products sold to the U.S. Department of Defense.