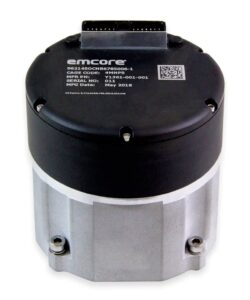 EMCORE Corporation, a leading provider of advanced Mixed-Signal Optics products that provide the foundation for today's high-speed communication network infrastructures and leading-edge defense systems, announced today the introduction of its new EN-300 Inertial Measurement/Navigation Unit for platform stabilization in unmanned aerial vehicles, dismounted soldier applications, aeronautics and aviation. Designed with options for full navigation capability, or as a higher performance, lower cost replacement for legacy Inertial Measurement Units (IMUs), the EMCORE EN-300 IMU was introduced at DSEI in September 2017.
The EMCORE EN-300 Inertial Measurement/Navigation Unit is a three-axis design using the Company's proprietary, solid-state Fiber Optic Gyro (FOG) transceiver with advanced integrated optics and Digital Signal Processing (DSP) electronics to deliver up to five-times better performance, increased reliability and lower cost than legacy IMUs. The EN-300 can be ordered in performance versions with bias drift as low as 0.035 degree/hr and ARW (Angle Random Walk) of 0.0040 degree/rt-hr. This makes it better suited for precise targeting, line-of-sight stabilization and GPS denied navigation than older generation units with higher bias drift typically between .5 to 3.0 degree/hr. Bias drift is an important measure of accuracy and precision of the IMU, with lower bias models delivering higher performance overall.
The internal signal processing of the EN-300 IMU provides options for an Attitude Heading Reference System (AHRS), or full standalone navigation software with coning and skulling compensation and sophisticated Kalman filtering. The unit can also utilize external sensors such as GPS for aided navigation. When configured with the full standalone navigation software, the highest performing EN-300 model can statically find north to less than 5 milliradian through gyrocompassing. The unit can also north keep for over an hour and a half, which makes the EN-300 an extremely valuable asset to the warfighter.
"Our new EN-300 is designed to operate as an IMU or navigator to provide customers the flexibility in choosing navigation options, or simply a higher performance replacement for their legacy IMU," said Dr. K.K. Wong, Senior Director of Fiber Optic Gyro Products for EMCORE. "The unit's digital interface is fully programmable within EMCORE's factory allowing it to directly replace lower performing competing units," added Dr. Wong.
"We designed our new IMU as a higher accuracy unit that is form, fit and function compatible with a legacy product, but with the better performance being demanded by the market," said David Faulkner, EMCORE's Vice President and General Manager of Aerospace & Defense. "This latest addition to our IMU and navigation systems product line further leverages EMCORE's unique vertical integration capabilities to deliver greater precision and lower cost to our customers."