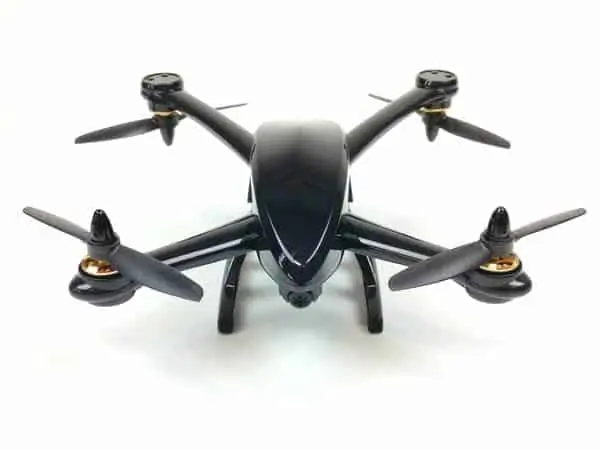 Aerix Drones has announced the release of DaVinci, a mid-sized aerial photography and racing drone hybrid. DaVinci's on-board first-person view (FPV) camera streams live video and records to the on-board micro SD card in 720p at 25fps, making it Aerix's highest resolution video drone.
DaVinci features four brushless motors — two standard motors and two inverted motors — providing a blend of torque, thrust and lift. The aircraft can reach up to 30 MPH with a 15-minute flight time, and has a range of up to 250 meters.
DaVinci is equipped with dual GPS to hold height and location, in addition to setting a home point for one-touch takeoff, landing and return to home functions. Low voltage warnings and fail-safe settings ensure that users have enough time to return home for a smooth landing.
DaVinci features 5.8Ghz FPV (First Person View) for low latency live streaming video. The on-screen display includes height, number of satellites, flying direction, horizontal speed, vertical speed and power in real-time.
DaVinci can execute mid-air maneuvers with extremely responsive handling due to the pre-installed stabilizer technology upgrades. Six-axis gyro-stabilization keeps the drone stable and centered. Pilots can bank hard and fast in any direction and DaVinci will automatically return to center, and 360-degree rotational yaw allows seamless adjusting of orientation.
Specifications:
Drone size: 245mm x 245mm x 90mm
Weight: 230 grams with battery
Blade size: 120mm diameter
Drone battery: 7.4v 1200mah
Drone charging time: 90 mins
Flight time: up to 15 mins
Transmitter battery: 3.7v 2000mah
Transmitter charging time: 150 mins
Transmitter usage time: 80 mins
Camera resolution: 1920 x 1080
FPV resolution: 1280 x 720
RC range: up to 250 meters
FPV range: up to 250 meters
FPV compatibility: All 5.8ghz goggles and monitors (Fatshark, FXT, Skyzone, Spektrum etc.)
Max altitude: Safety set to 300 feet
The complete kit includes:
DaVinci drone
Controller
4.3-inch FPV monitor
Rechargeable drone battery
Rechargeable controller battery
Two spare blades
8gb Micro-SD Card and USB reader
USB charging cables and wall chargers
Drone tool kit, including
One small Phillips screwdriver
One 4-way interchangeable screw driver (Phillips, flat head, small hex and medium hex)
One double-sided crescent wrench
User manual
Watch a video demonstration of the DaVinci drone below: