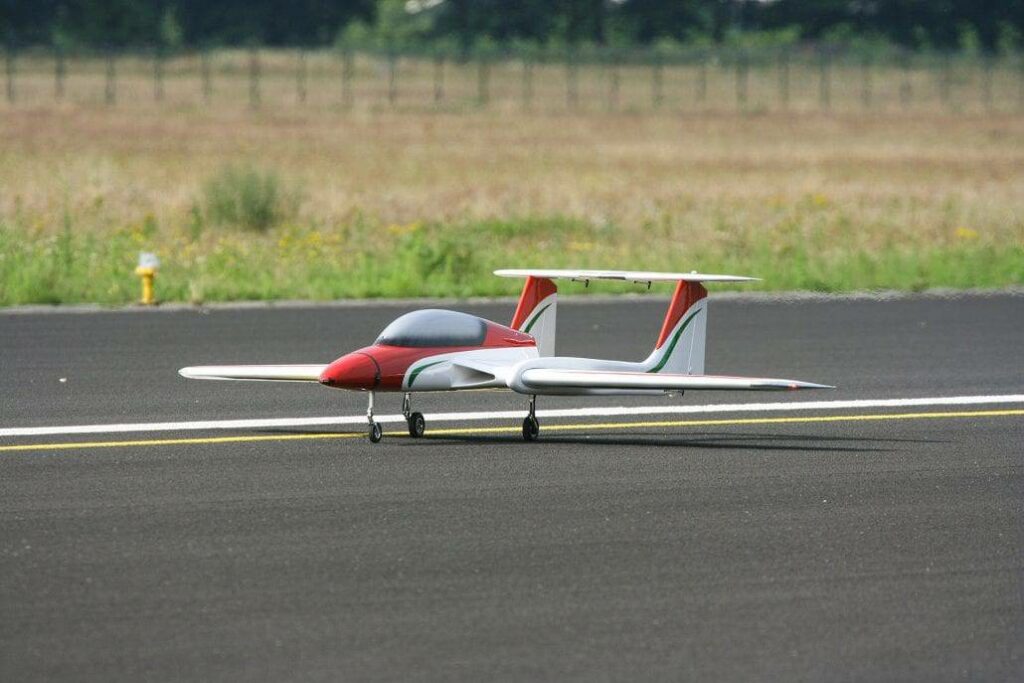 The Netherlands Aerospace Centre (NLR) has announced that it will be testing the XCalibur+ Jet Trainer drone at Twente Airport. NLR is using the XCalibur+ Jet Trainer – a large drone approved for professional use in accordance with the Assessment Specifications for Remotely Piloted Aircraft Systems, Class 1 (AS-RPAS1) – to gain experience in operating drones powered by jet engines.
The XCalibur+ Jet Trainer PH-1 is based on a model aircraft which has been subjected to a number of modifications to ensure compliance with the AS-RPAS1 requirements. The Jet Trainer can fly at various speeds and is radio-controlled. This is the first series of test flights performed by NLR using this drone model. Four NLR employees have completed a special training course in Germany that qualifies them to operate jet-propelled fixed-wing drones. The tests will also be supervised by a pilot with expertise in flying real jet aircraft and drone jets. The drone will reach a maximum altitude of 1500 feet, will remain within the operator's visibility range, and will not fly over residential or nature areas.
The experience gained with the Jet Trainer is important to NLR's future activities relating to large drones. For instance, NLR is currently working on the development of a large remote-controlled jet aircraft that will be approx. 4 metres long, with a wing span of 4 metres and a weight in excess of 100 kg. These activities are part of the EU CleanSky 2 SCALAIR (SCALed AIRcraft) project, which is aimed at developing, building and testing a flying scale model of an existing commercial aircraft. The purpose of developing this scale model is to demonstrate the relationship between the flight behaviour of the model vs. the full-scale aircraft.
NLR has selected Twente Airport due to the unique characteristics of this test site. "NLR has at its disposal the Netherlands RPAS Test Centre (NRTC) in Marknesse in Flevoland province, a site with its own closed airspace. However, Twente Airport has been chosen for the first test flights with the Jet Trainer and other large drones because of the presence of a long, paved runway, the obstacle-free surroundings, and the relatively low volume of air traffic," said Jan Willekens of NLR. Under the auspices of the Dutch Drone Platform, NLR is working together with Space53 and other planned drone test sites in the Netherlands to promote the development and use of drones.