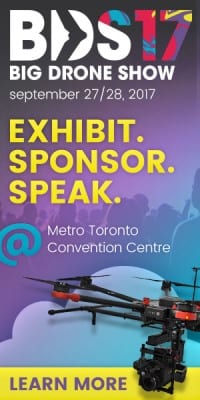 The Sky Guys Ltd. ("The Sky Guys"), a leading Canadian drone technology provider, has teamed up with Cambridge House International to host the Second Annual Big Drone Show, which is taking place in Toronto, 27 – 28 September 2017.
The two-day event will take place at the Metro Toronto Convention Centre, and will feature more than 40 speakers and more than 100 industry leaders. The Big Drone Show is the premier drone event in Canada, providing an all-encompassing view of the industry and the immense value drones can bring to commercial businesses.
This year's Big Drone Show will also feature a two-day "hackathon" that is designed to showcase the abilities of those involved in the Canadian drone industry, encourage the sharing of new and exciting ideas in the community, and ultimately drive new innovation in the industry.
"Last year, we hosted the first-ever international UAV show in Canada," noted Adam Sax, Chief Executive Officer and founder of The Sky Guys. "We are thrilled to be doing it again this year, and this time in a great new venue that offers even more opportunities to showcase some of the incredible work going on here in Canada. Bringing leading industry experts, manufacturers and technology disruptors to Toronto is important not just for The Sky Guys as a local company, but for Toronto's growing tech scene generally."
The Big Drone Show will cap off an incredible year of growth and achievements for The Sky Guys. In December 2016, they launched Defiant Labs, a technology division dedicated to developing robust drone platforms and data analytics. In early 2017, The Sky Guys went to market to attract new investors, ultimately leading to a $2.3 million private placement led in part by FairVentures Inc.
"We are very excited to be working with FairVentures," said Sax. "Our plans for strategic growth naturally align with their mandate to invest in innovative solutions to support their broader group of affiliated companies. It has also been a tremendous year for The Sky Guys and we expect the Second Annual Big Drone Show to continue to keep us on pace as industry leaders."