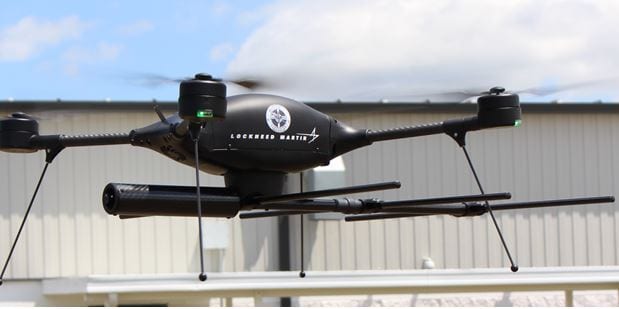 Project Lifesaver International (PLI) and DARTdrones have announced a formal partnership between the two organizations in which DARTdrones will provide comprehensive training and preparation for the FAA Part 107 Drone Pilot Test to PLI Member agencies undergoing certifications for the implementation of the PLI Indago UAV (unmanned aerial vehicle).
The PLI Indago System is a military grade, quad rotor UAV designed specifically for the search and rescue of special needs populations with cognitive disorders who are prone to the life-threatening behavior of wandering, including individuals with Autism, Alzheimer's disease, or some other form of cognitive condition.
PLI is a 501 (C) (3) community based, public safety, non-profit organization that provides first responders and caregivers with the equipment and training required to protect and, when necessary, quickly locate individuals with cognitive conditions that cause the propensity to wander. With the use of state-of-the-art radio frequency technology, innovative search and rescue techniques, and accredited first response training, PLI Member agencies have successfully located nearly 3,300 special needs individuals during an episode of elopement; the average recovery times for these rescues are less than 30 minutes, which is 95% less time than standard operations.
The PLI Indago UAV was developed by Lockheed Martin and Loen Engineering in an effort to aid PLI Member agencies in the search for eloped clients by substantially expanding search coverage while significantly decreasing recovery times and costs; the innovative technology serves as an airborne asset to greatly improve the probability of a successful recovery across broad search areas.
DARTdrones is a UAV training program and consultancy serving multiple industries, including power & utilities, mass media and notable public safety agencies. DARTdrones provides flight training, FAA exam preparation, and UAS program development to corporations, the public sector and individuals.
"Drone technologies are becoming a great asset among many fields of work, and we are thrilled to begin implementing the PLI Indago throughout our network of member agencies; it truly is a technology that will aid us in successfully achieving our mission of bringing loved ones home," said Gene Saunders, Founder and CEO of Project Lifesaver International. "We are very excited to be partnering with DARTdrones, the leading UAV and UAS training organization in the United States. Through this partnership, our member agencies seeking certifications will undergo the most comprehensive and accredited preparation course available."
"DARTdrones is proud to partner with Project Lifesaver, the Gold Standard in Special Needs Search & Rescue," said Abby Speicher, Founder and CEO of DARTdrones. "We are thrilled about the opportunity to work with an esteemed organization that shares our commitment to innovation and excellence in aviation."
Through this partnership, PLI member agencies seeking to implement the PLI Indago UAV will be enrolled in the DARTdrones online Part 107 Drone Pilot Test Prep course. Completion of this course will ensure PLI member agencies in the process of implementing the PLI Indago UAV are best prepared to pass the FAA certification, and excel in their position as a certified Project Lifesaver Drone Pilot.