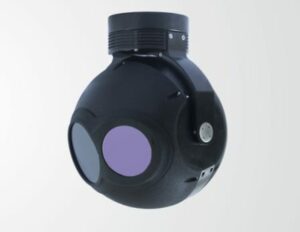 UAV Vision has announced the launch of a new 3-axis gyro-stabilised gimbal, which has been unveiled at the AUVSI XPONENTIAL 2017 trade show in Dallas, Texas. The CM123 is a miniature, multi sensor camera system designed for commercial and ISR applications.
Weighing 1kg and measuring 120mm in depth and 200mm in height, the CM123 is designed for integration into multi-rotor, rotary-wing and fixed-wing unmanned aerial vehicles (UAVs). The CM123 has thirty times electro-optic (EO) optical zoom and three times infrared (IR) optical zoom to give end users enhanced detection capabilities to improve the efficiency of each mission.
With 3-axis mechanical and digital stabilisation, the CM123 cancels out unwanted movements to provide operators with a stable and clear image. Other key features include object tracking, GEO-Lock, motion detection, reliable navigation and real-time video stabilisation.
Find suppliers of Gimballed Camera Systems for UAVs >