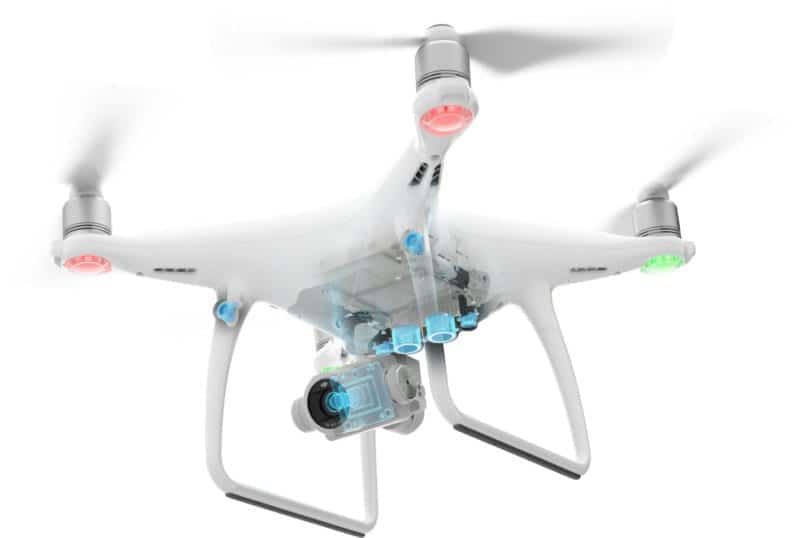 DJI has announced the latest addition to its Phantom family of drones, the "Phantom 4 Advanced", which features a more powerful 1-inch, 20-megapixel camera sensor and more precise controls, including a mechanical shutter.
The Phantom 4 Advanced's upgraded camera is capable of shooting 4K video at 60 frames per second. The more powerful video processing now supports H.264 4K videos at 60fps or H.265 4K at 30fps, both with a 100Mbps bitrate. Improved optical performance, sensors and processors ensure everything is captured with high dynamic range and more image detail needed for advanced post-production.
Similar to the Phantom 4 Pro, the drone comes with many key intelligent features that allow smooth automatic flight modes, including Draw, ActiveTrack, TapFly, Gesture and Tripod. Equipped with the FlightAutonomy system made up of 5 vision sensors, forward-facing obstacle avoidance system, dual-band satellite positioning (GPS and GLONASS), and ultrasonic rangefinders, the Phantom 4 Advanced is able to hover precisely in places without GPS and fly in complex environments.
The Phantom 4 Advanced+ version offers a 5.5-inch 1080p screen integrated into the controller. The screen is more than twice as bright as conventional smart devices, making it an ideal aerial imaging solution for outdoor use. In addition, creators can now do more with the Phantom 4 Advanced's increased storage capacity using a 128GB microSD card and a flight time extended up to 30 minutes.
With the introduction of the Phantom 4 Advanced, the regular Phantom 4 model will reach its End of Life (EOL) on April 30, 2017.