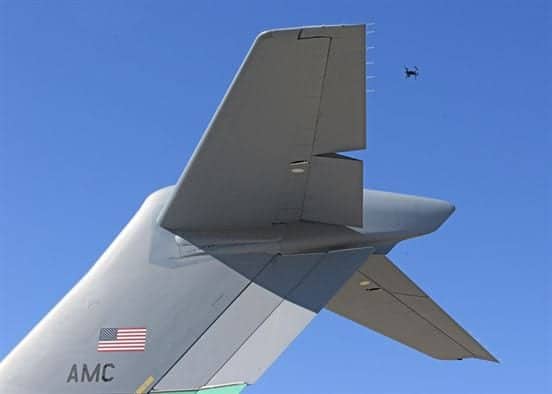 The U.S. Air Force has announced that its 412th Test Wing's Emerging Technologies Combined Test Force (CTF) has used a quadcopter to conduct a maintenance inspection of the exterior of a C-17 Globemaster III aircraft.
The C-17 was on loan from Joint Base Lewis-McCord, Washington. This was the first time that the CTF had flown a small unmanned aircraft system on the flightline.
The winds remained manageable and allowed the test team to conduct three sorties with the quadcopter, which was fitted with a video camera. Live video was assessed by the team that included maintainers, to determine if the quality was adequate for routine inspections. The video recorded from the quadcopter's camera will be analyzed to see if it is clear enough to see smaller details of the cargo plane's exterior such as structural abnormalities, rivets and cracks.
Maj. Dan Riley, the CTF director, said that the test was so successful that the maintainers used the data to sign off their preflight external inspection, a first for the Air Force.
"This could save (maintainers) a lot of time," said Staff Sgt. Joshua Jaburek, of the 62nd Aircraft Maintenance Squadron at JB Lewis-McChord. "When we go on top of the airplane, we can only walk on certain parts and then we have to hook and unhook our (safety harness) every few feet."
Inspections that would normally take 45 minutes to an hour could be done just in a few minutes with a quadcopter. Maintainers also would not need a lift to inspect a C-17's tail, Jaburek said.
Capt. Justin Merrick, a CTF lead engineer, said that the CTF got the idea from seeing a video online showing a commercial airline company using a sUAS to inspect a plane.
"(Leadership) encourages us to go out and conduct tests, so after we saw some videos online we contacted some maintainers here and they were very enthusiastic to help out," Merrick said.
Riley added that this first test on the flightline could pave the way for future sUAS tests and test procedures.
"Another reason we've conducted this test is to open the aperture on flying a sUAS near the airfield, which has been frowned upon in the past," Riley said. "As we execute these missions it establishes a baseline for how operations can be conducted safely, not only here at Edwards, but at other bases as well. We couldn't have accomplished what we have so far without the support of the 412th Operations Group and test wing commander in breaking down some of the barriers to these types of operations."
Riley said the CTF is looking at a variety of other missions in the near future such as roof inspections, airfield inspections and environmental-concern area inspections.
The newly formed CTF has also begun testing a quadcopter to determine if it was possible to use the sUAS to calibrate the 412th Range Squadron's telemetry antennas on base. Those tests also yielded positive results.