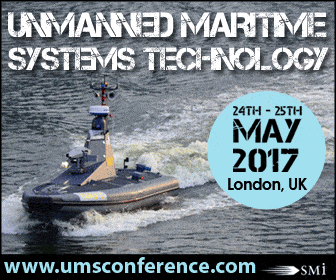 The SMi Group has confirmed the speaker line-up for the forthcoming Unmanned Maritime Systems Technology conference, taking place in London on the 24th & 25th May 2017.
Bringing together both military and industry unmanned systems experts, the 2017 agenda aims to provide the perfect platform for unmanned maritime users to discuss the future developments and technological innovation of maritime robotic systems.
Being the only conference on the market to reflect on the Unmanned Warrior exercise, this two-day conference will provide attendees with 17 thought provoking presentations, two interactive panel debates, 5+ hours of networking time and an interactive pre-conference workshop.
Topics that will be explored throughout the two days include: USVs and UUVs, autonomous versus remote controlled systems, force protection missions, off-board sensor systems, integrating UAVs, mine warfare, the role of NATO, protecting the blue economy and much more…
The handpicked speaker line-up features: Royal Navy, German Navy, US Navy, Polish Navy,  NOAA: National Oceanic & Atmospheric Administration, NATO MARCOM, ONR Global, NATO STO-CMRE, DSTL, FFI and many more…
Plus, there will be an exclusive keynote presentation from Admiral Sir George Zambellas, First Former Sea Lord and Chief of Naval Staff from the Royal Navy who is lending his support for the conference.
Download the brochure or register online at www.umsconference.com/liust. Secure your place before 28th February to take advantage of a £200 early bird discount. Plus, quote our exclusive voucher code "UST100" when registering online to save a further £100.