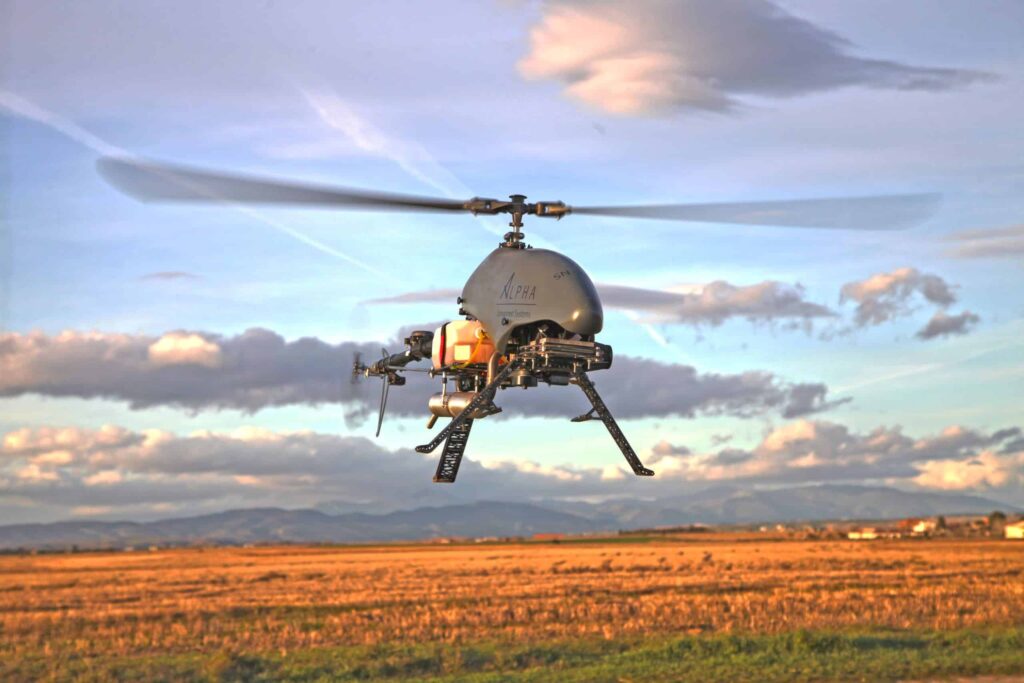 Alpha Unmanned Systems has released the ALPHA 800 unmanned helicopter – an evolution of the SNIPER UAS. Following 18 months of extensive research, development and innovation, the new unit boasts improvements to all its systems, from the mechanics to the on-board electronics and the available payloads.
The new ALPHA 800 has a higher payload capacity of 3kg and can fly for up to 2.5 hours at a longer range of 15-30km.
In the airframe, the FlyBar of the main rotor has been removed; the landing gear has been completely redesigned to reduce weight and provide better line of sight for the antennas. These changes have saved more than 500g, allowing for increased fuel tank capacity on 600cc. In addition, some critical components such as servo-actuators have a manufacturer-guaranteed service life which gives the system an extra level of safety.
The electronics are IP64 rated, allowing the helicopter to operate in marine environments or under rain. In addition, it includes safety and redundancy elements such as redundant general power, with double autopilot power point and resettable fuses at all payload and servo power points.
Alpha Unmanned Systems has also worked on integrating a multitude of payloads and currently offers up to 15 different options covering all types of applications for multiple sectors: from surveillance, inspection, agriculture, mining, to mapping LIDAR or GIS. Payloads include: dual sensor cameras with day and night vision, up to 40x optical zoom, and high resolution and frame rate infrared sensors.
Alpha Unmanned Systems now also offers contracting services to clients for both ISTAR missions and civil projects.
Watch the ALPHA 800 in action: