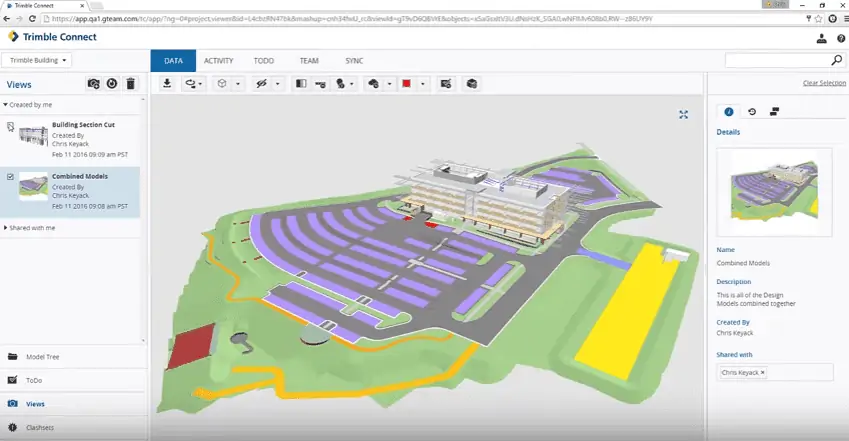 Trimble has announced new data processing capabilities for Trimble Connect™ software, a cloud-based collaboration ecosystem. The automated solution uses the scalable processing power of the cloud to significantly reduce time to delivery of actionable information. The automation platform takes advantages of accelerated upload technology and scalable cloud computing to deliver results quickly.
In addition, Trimble also announced the first service available on the new Trimble Connect cloud processing platform — Trimble Connect AutoUAS. The new AutoUAS service dramatically reduces the time required to process and georeference Unmanned Aircraft System (UAS) imagery, allowing professionals to easily deliver high-quality data to their clients. The solution incorporates several innovations that improve efficiency and ensure consistently accurate data deliverables, while taking an agnostic approach to UAS platform support. This includes the use of ground-based intelligent control targets that are automatically identified during image processing, full support for the Applanix® GNSS-inertial Direct Georeferencing solutions and Trimble CenterPoint® RTX™ Post-Processing for automatic GNSS control establishment.
All data from the field uploaded to the cloud for rapid processing via an accelerated high-speed data uploading tool. The service validates data quality before delivering highly accurate orthomosaic images, point clouds, elevation models and quality control reports. Automation and scalability of cloud computing removes the need for continual manual guidance associated with traditional desktop processing.
Incorporating the Trimble Connect AutoUAS service within the Trimble Connect cloud ecosystem enables customers to easily share processing results and seamlessly integrates UAS data into existing geospatial and construction workflows.
"As smart devices and the Internet of Things gain adoption and proliferate, it is imperative for organizations to have a data management strategy," said Jon Fingland, general manager of Trimble Connect. "Trimble Connect's automated cloud processing allows users to turn data into information without significant manual intervention, which can increase efficiency and reduce rework."