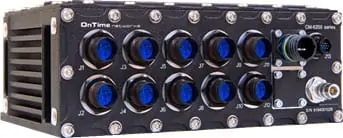 OnTime Networks has expanded its portfolio of military-grade Gigabit Ethernet switches, with the new CloudberryMIL CM-6200 Series.
The Cloudberry CM-6200-MIL Series Rugged (VICTORY ready) Gigabit/10Gigabit Ethernet Switch, with IEEE 1588 PTP GMC capability, is a Fully Managed Layer 2/3 Ethernet Switch with up to 24 Gigabit Ethernet and four 10Gigabit Ethernet ports. Specifically designed to reliably provide high-performance connectivity for extremely demanding size, weight and power (SWaP) constraints in the harsh climatically and noisy electrical demanding environments (e.g. high altitude, extreme shock, & vibration, extended temperatures, humidity, dust & water exposure, noisy EMI, dirty power) for applications on land, in the air and on sea.
Find suppliers of Routers & Switches >
The CM-6200 with its sealed IP68 aluminum chassis has been designed to meet MIL-STD-461F EMI/EMC and MIL-STD-810G thermal, shock, vibe, humidity, altitude, and ingress conditions. The unit features no moving parts, EMI filtering, and isolated MIL-STD-1275/704 power supply that protects against vehicle/aircraft voltage surges, spikes and transients.
Its performance is optimized for a large numbers of IP-enabled embedded devices, such as computers, cameras, sensors, and command-and-control equipment, deployed in manned and unmanned system platforms at the network edge.
The CM-6200 supports the latest generation of IPv6 switching, allowing it to meet the most challenging requirements for next generation DoD networks. IPv6 provides improved network security and reliability, while support for more network addresses allows for a greater number of interconnected devices. Additional management and configuration features include quality of service (QoS) prioritization, VLANs, LAG, SNMP, RSTP, VRRP, IGMP and traffic policing, providing customers the flexibility to meet their unique networking requirements.
Pål-Jørgen Kyllesø, CTO of OnTime Networks further commented, "The CM-6200 combined features allows the unit to be deployed in a wide array of applications in military vehicles, submarines, helicopters, and unmanned vehicles that need the ability to interconnect a large number of nodes." He continued, "We have seen an increasing demand for 10GbE backbone applications, which require the incorporation of the latest technology with increased accessibility, scalability and security features. With the NEW CM-6200 platform OnTime Networks is able to provide the right solution."
Markus Schmitz, Managing Director of OnTime Networks in the U.S., stated "Our new CM-6200 Series delivers the most advanced, cost-effective rugged networking solutions for demanding defense and aerospace platform applications. Its modularity and scalability allows OnTime to answer a wide range of customer requirements with one single platform."