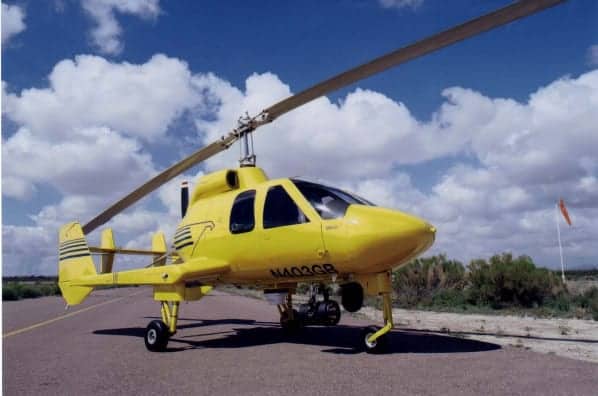 Groen Aeronautics Corporation (GAC) has announced that it has received funding to develop the company's ReconHawk Gyroplane Drone through to production.
"We have made this investment because we are confident that applying GAC's most remarkable technologies and knowhow to create affordable vertical takeoff and landing drones is an investment worth making," said Mr. Paul Alar, founder of Atlanta-based investment firm West Mountain LLC. West Mountain has made previous investments into Groen's sustained autorotative flight efforts.
"GAC's broad knowledge and capability in the advent of uncomplicated, inexpensive, high performance vertical aircraft gives us high expectations for this to be one of our most important investments," continued Alar.
By bringing its Gyroplane Platform to drones, Groen Aeronautics Corporation is ready to commercialize its gyroplane technology for the unmanned aircraft market. Gyroplanes do not require a runway and are less complex than other VTOL aircraft, meaning that Groen hopes to produce a drone which will operate at lower cost and greater reliability than other aircraft.
GAC's initial production drone will be "optionally manned," meaning that a human pilot can fly it to where it needs to be used, before it is sent off on its autonomous or remotely piloted mission. This can be far more efficient than disassembling a drone aircraft, crating it, shipping it, uncrating it, reassembling it, inspecting it and test flying it to ensure correct reassembly, and then sending it on its mission.
GAC's sustained autorotative flight technologies can be applied to important use in aircraft sizes from a highly functional multi-use drone, to light aerial observation aircraft for law enforcement and border patrol, to air-taxi and tour guide 6 to 9 passenger sizes, to multi-engine business transport aircraft in 10 to 16 passengers, to commuter airliner sizes from 19 to 100 passengers – all vertical takeoff and landing aircraft.
"Imagine commuter airliners taking off vertically from an airport the size of a downtown bus station – airplanes that do not need runways," said David Groen, Chairman & CEO of GAC and its predecessor companies. "The creation of safe, reliable, affordable, high-speed, vertical takeoff and landing aircraft is not only our vision, it is our reality."