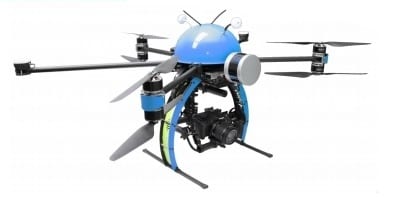 HYPACK, a Xylem brand, has released a new multi-rotor UAV surveying solution: the NEXUS 800. The NEXUS 800 is an out of the box turnkey system that tightly integrates hardware and software to provide an advanced and seamless solution for LiDAR survey planning, data acquisition, post processing and analysis, and product creation.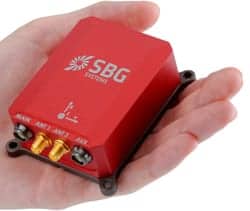 Equipped with SBG Systems' 'Ellipse-D' dual antenna inertial navigation system, the NEXUS 800 combines LiDAR and photogrammetric data to provide a powerful surveying solution. Hypack selected the Ellipse-D INS as it embeds an RTK GNSS receiver with post-processing capabilities, and offers centimeter-level positioning which is crucial for surveying applications. In addition, the two antennas provide fast initialization and accurate heading. Furthermore, the small Size – low Weight – low Power ratio meets the requirements of this commercially-designed platform.
Powered by HYPACK-HYSWEEP mapping software, the NEXUS 800 operator can plan, acquire, and process the LiDAR and Photogrammetry data onboard a high powered Windows PC and high performance UAV allowing for rapid analysis, product creation and export to a variety of CAD and GIS formats.
The NEXUS 800:
• Provides a full GNSS aided inertial navigation system with the Ellipse-D INS
• Visualizes LiDAR return with a 360 degree field of view
• Acquires LiDAR and Photogrammetric data using the powerful and user-friendly HYPACK-HYSWEEP software
• Displays Real-Time photogrammetry and Point Cloud viewing
• Provides Point Cloud and georeferenced photogrammetry correlation via post processing
• Includes an On-board Windows® PC for rapid data processing and product creation
• Allows volume computations and data analyses
• Includes a comprehensive full flight system, training and support