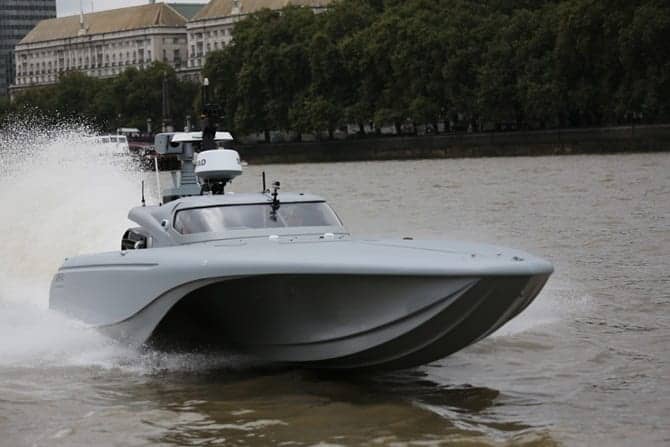 The UK Ministry of Defence's Defence Science and Technology Laboratory (Dstl) has announced that its new Maritime Autonomy Surface Testbed (MAST) system is participating in a number of exercises at Unmanned Warrior. The vessel is one of over 40 autonomous systems taking part in the Royal Navy's event.
MAST is an unmanned surface vessel (USV) system based on the Bladerunner hull shape. UK designed and built, the 34ft MAST is a unique vehicle capable of reaching speeds of 60mph and can be operated with various levels of autonomy from basic remote control up to fully autonomous navigation. The vehicle's autonomy and control system was developed by ASV Global under Dstl funding.
The Unmanned Warrior is taking place in Ministry of Defence exercise areas around Wales and Scotland. The demonstration aims to test systems in an operational environment and will see over 40 vehicles from land and sea take part in various exercises to allow the Royal Navy to see first-hand how some of the systems and sensors could integrate into current and future operations.
During Unmanned Warrior, MAST is being deployed from support vessel Northern River and taking part in a number of simulated 'attack' exercises to test and verify its autonomous capabilities. In a series of trials, personnel are experimenting with the vehicle's innovative autonomous defensive blocking and intercept capabilities to block a number of fast inshore attack craft.
The vehicle's 360 degree camera and radar are also being used to provide tactical situational awareness in support of the wider picture compilation efforts of the exercise. The unique manoeuvrability and flexibility of the MAST is used to investigate and identify potential threats in the area and relay optical and infrared surveillance imagery back to the fleet.
Testing USV systems in conditions more representative of the environments that these vehicles will ultimately be deployed in has been incredibly valuable.
Royal Navy Commander Bow Wheaton commented that "the utility of USVs has been proven beyond doubt."
The MAST system has been funded through Dstl, which conducts research on behalf of the Royal Navy (and the other UK armed forces). The development has been conducted by civilian manufacturers ASV Global and Roke Manor Research, with support from Cambridge Pixels, SeeByte and Chess Dynamics.