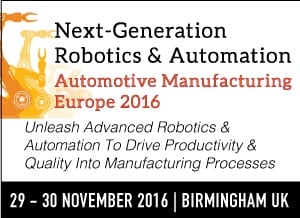 Automotive manufacturers across Europe understand that the next-generation of robotics and automation technologies is a revolutionary opportunity to upgrade automotive manufacturing across productivity, quality, safety and cost metrics.
However, questions remain as to how effective implementation can be achieved without impacting throughput, and many across recent research are still unaware of the full capabilities of these cutting-edge machines.
Next-Generation Robotics & Automation: Automotive Manufacturing Europe 2016 (29-30 November, The Vox, Birmingham) unites European Automotive Manufacturers and sub-contractors with pioneering robotics, tooling and automation providers to understand the evolution of the latest technology, and grapple with the techniques and considerations that must be addressed to maximise their value within specific manufacturing contexts.
Speakers include representation from BMW, Jaguar Land Rover, Volvo Car Corporation and Daimler AG & Mercedes-Benz Trucks.
For 15% off the registration fee, enter "UST15" at the checkout.
For more information and registration please visit nextgenautomotiverobotics.com