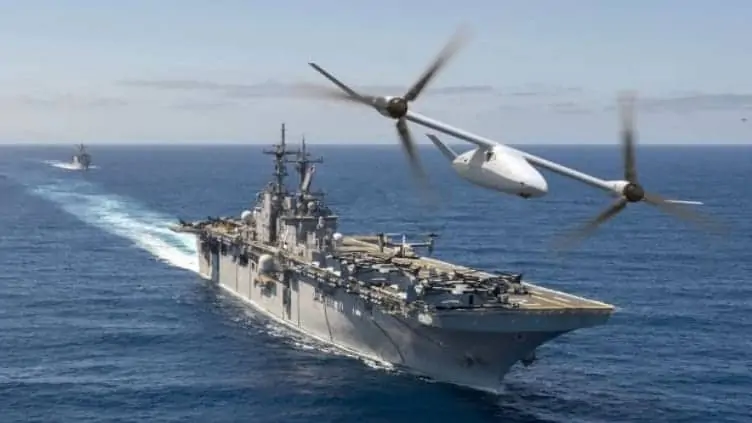 Bell Helicopter has announced its new V-247 Vigilant tiltrotor, an unmanned aerial system (UAS) that will combine the vertical lift capability of a helicopter with the speed and range of a conventional fixed-wing aircraft. The aircraft is designed to provide long-endurance persistent expeditionary and surveillance capability and reach, as well as runway independence to operate successfully in maritime environments and locations without secure runway availability.
The Bell V-247 Vigilant satisfies the comprehensive spectrum of capabilities outlined in the 2016 Marine Corps Aviation Plan, and could be available for production as early as 2023. The Bell V-247 Vigilant is a solution designed to address the evolving demands of the military and transportation sectors for unmanned aircraft for a shipborne UAS platform, including:
The ability to operate successfully without a runway, such as in maritime environments
Seamless performance in locations without secure runway availability, such as at shrinking land bases in contested areas
Significant reduction of the logistical footprint while retaining the superior operational performance by combining the vertical lift capability of a helicopter with the speed and range of a conventional fixed-wing aircraft
The capacity to control the battle space effectively with 24-hour intelligence provided by unmatched long-endurance persistent expeditionary and surveillance capability
A Group 5 UAS, the Bell V-247 Vigilant is designed to execute a wide array of mission sets, including electronic warfare, ISR (Intelligence, Surveillance and Reconnaissance), escort, C4 (Command, Control, Communications, and Computers), persistent fire missions and tactical distribution. The UAS is expected to accomplish all of this with the benefits of extended endurance through plug-and-play mission packages.
"The Bell V-247 Vigilant is the next leap in innovation making the future of aviation a reality today – it's a testament to the power and versatility of tiltrotor flight," said Mitch Snyder, president and CEO at Bell Helicopter. "At Bell Helicopter, we are constantly challenging the traditional notion of what it means to fly by staying on the leading edge of aviation and technological development. The unmanned tiltrotor is the latest example of how we are changing the way the world flies, taking our customers into the dynamic world of next-generation aircraft."
The Bell V-247 Vigilant's design features a number of capabilities and transformational features, including:
A sea-based platform, which can be sized for compatibility with DDG guided missile destroyers shipboard applications
Single engine tiltrotor unmanned aerial system
24-hour persistent ISR with a two aircraft system
Speed: 250 knots cruise speed; 180 knots endurance speed; >300 knots at maximum continuous power
Combat range: 450 nautical miles mission radius
Time on station: 11 hours
Size: 16,000 pounds empty weight / 29,500 pounds max gross weight; 65-feet wing span; 30-feet rotor diameter
As it sits on the deck, the V-247 Vigilant can hold a combination of fuel, armament, and sensors, up to 13,000 pounds
Blade Fold Wing Stow makes V-247 Vigilant DDG hangar compatible
Expeditionary capability with small logistical footprint
Open architecture and interfaces
Air-to-air refueling
Modular payload system to provide maximum flexibility
Power distribution system to provide maximum mission capability
Redundant flight control system
Electro Optical System and Targeting System
The Bell V-247 Vigilant offers a dynamic profile that is suited to completing highly versatile operations and support missions. It is designed to provide extended range flying from land or ship and to remain on-station with heightened loiter times for extended periods. With its signature blade fold wing stow design, it will fit inside a DDG hangar space, and two can be loaded on a C-17 aircraft. The open architecture of the modular payload system enhances flexibility for aircraft customization by mission type. The bays on the Bell V-247 Vigilant are designed to carry high definition sensors, fuel, sonar buoys, light detection and ranging (LiDAR) modules, 360-degree surface radar modules, an MK-50 torpedo or Hellfire or JAGM missiles optimally.
"Leveraging lessons learned from our extensive history and experience with tiltrotors, we have found the best available solution to fulfill the Marine Corps need for a Group 5 UAS," said Vince Tobin, vice president, advanced tiltrotor systems at Bell Helicopter. "The Bell V-247 Vigilant will give military customers the capabilities needed to reduce the complexity of deployment, increase speed of employment, reduce mission times and increase response time – all critical elements to completing missions to save lives and protect our freedom."