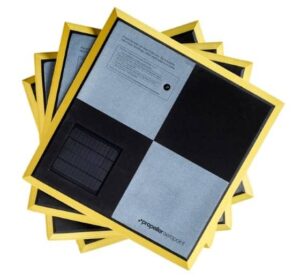 Propeller Aero, a geospatial data company, has announced the launch of AeroPoints – smart ground control points that allow users to capture survey-accurate mapping using drones.
AeroPoints' patent-pending technology provides a solution to one of the major roadblocks to widespread commercial drone adoption: accuracy.
"Drones can fly over a site and capture incredibly valuable data for surveyors and engineers in just minutes. But if you want accurate data, you need to spend hours on site creating ground control points before the drone flight. These calibration points are critical for a reliable results, but they add a significant amount of time, labour and expense," said Rory San Miguel, Propeller's co-founder and co-CEO. "Now there is a simple solution: AeroPoints make the calibration points their own smart device."
Typical ground control requires establishing precise geolocation position using expensive surveying equipment, and then securing a visible ground marker exactly on the pre-marked GPS point. AeroPoints are portable ground control markers, visible from the air and capable of quickly capturing its own position down to 2cm absolute accuracy.
AeroPoints work with any camera or drone, and integrate with Propeller's cloud-based data platform and processing engine. The units are solar-powered, durable and weather-resistant, and do not require any on-site connection.
To use AeroPoints, users lay them down, fly the drone, and then pick them up again. The AeroPoints automatically connect to a wireless or mobile hotspot when back in range to upload captured positional data ‐ and precision georeferencing is done.
"Propeller's mission has always been to help our customers process, use and share the highest quality drone data," said Francis Vierboom, co-founder and co-CEO of Propeller Aero. "We're thrilled to be delivering a product that will make capturing that data easier and more affordable than ever for companies across the industrial sector ‐ including mining, construction, quarries and landfills ‐ the reception for AeroPoints has been overwhelmingly positive."
"We pride ourselves on delivering the most accurate solutions to our customers," said Gavin Docherty, the UAS Product Manager at Position Partners Pty Ltd. "The AeroPoints have exceeded all expectation for delivering repeatable and precise data. This is a genuinely transformational technology."
AeroPoints key features include:
Wireless connectivity to upload position information
Survey grade accuracy from in-build PPK for precision coordinates
One button operation: capture and send position information with the touch of a button
High durability – solar powered, waterproof and weather resistant