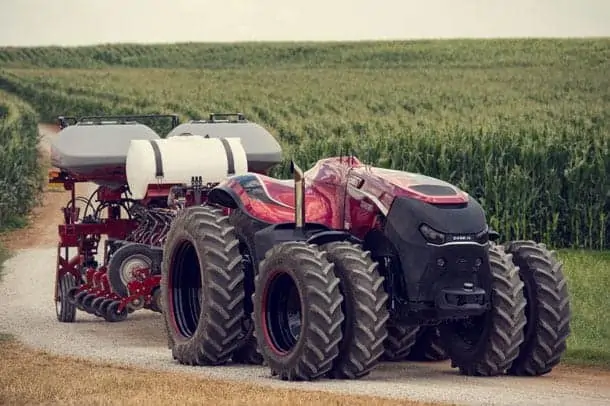 Autonomous Solutions, Inc. (ASI), a developer of unmanned vehicle systems, and CNH Industrial, a provider of agricultural machinery, have announced the unveiling of concept autonomous tractors. ASI is CNH Industrial's technology provider responsible for developing autonomous vehicle technology for a concept cabless Case IH Magnum and a concept New Holland T8, based on a current production tractor.
The tractors, unveiled at the Farm Progress Show in Boone, Iowa, include the ability for autonomous seeding, planting and tillage, for broad acre and row crop farming. Advanced path planning technology will allow farmers to manage their fields efficiently and oversee the overall operation of several vehicles at once. The vehicles are also capable of obstacle detection, which will enhance safety in the agriculture industry.
Watch the video:

"ASI is the industry-leading developer of autonomous solutions in the off-road vehicle segment and the natural choice to be one of CNH Industrial's key technology providers. CNH Industrial has had a long and successful relationship with ASI and we will continue to work together in developing advanced autonomous solutions for the future benefit of our global customers" stated Richard Tobin, CEO of CNH Industrial.
ASI has nearly two decades of autonomous technology development experience. As a smaller and more agile technology developer, ASI is able to partner with large global companies to help them disrupt their market with multi-vehicle autonomy faster and more economically than they could in any other way.
"Our relationship with CNH Industrial is vital in facilitating the near term disruption of how farming is done. We're thrilled to be working with the leaders in Ag innovation to make this exciting future of driverless tractors a reality," says Mel Torrie, ASI founder and CEO. "CNH Industrial's selection of ASI as a long term, strategic robotic development provider validates the capability and flexibility of our robotics platform in reducing the risk and costs for equipment manufacturers to bring advanced capabilities to their respective industries."
ASI and CNH Industrial have joined forces to create a development model and architecture framework that is flexible and dynamic, able to quickly adapt and adopt new technologies and standards. This concept tractor results from the integration of ASI's autonomous hardware and software with CNH Industrial's advanced platform.