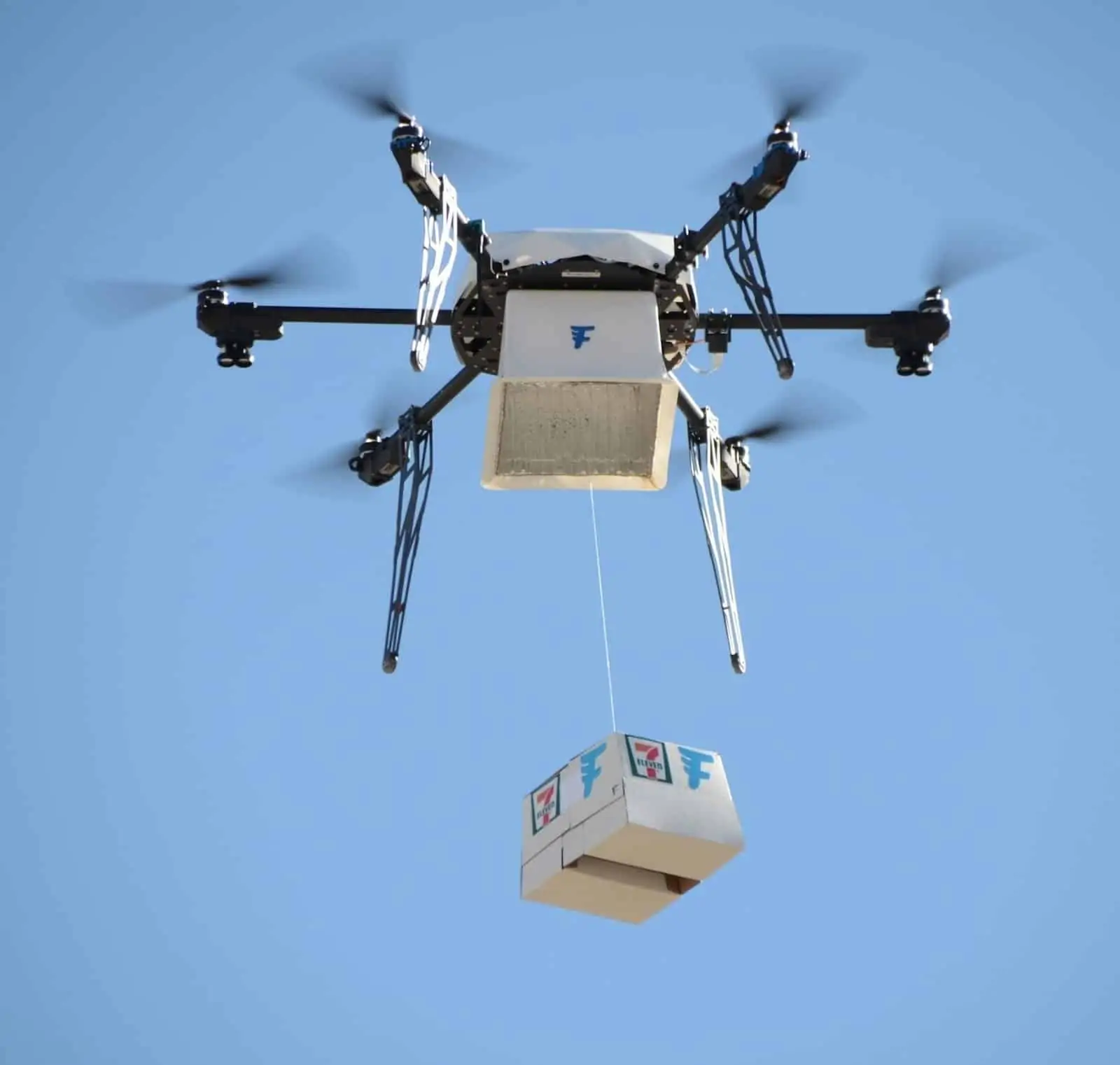 Flirtey, a drone delivery service, has completed the first fully autonomous drone delivery to a private residence to advance research toward integrating drones into the National Airspace System. This delivery is the first time a U.S. customer has received a package to their home via drone, representing a historic milestone in both U.S. and global commerce. The delivery was conducted in collaboration with the Nevada Institute for Autonomous Systems (NIAS) and the convenience retailer 7-Eleven.
"This delivery required special flight planning, risk analysis, and detailed flight procedures ensuring residential safety and privacy were equally integrated," said Chris Walach, Director of Operations for NIAS.
At a Reno, Nevada 7-Eleven® store, two deliveries were successfully completed. 7-Eleven merchandise – including hot and cold food items – were loaded into a unique Flirtey drone delivery container and flown autonomously using precision GPS to a local customer's house. Once at the family's backyard, the Flirtey drone hovered in place and gently lowered each package. The purchases were delivered to the family in the span of a few minutes. In the future, both companies expect drone packages to include "everyday essentials" such as batteries and sunscreen.
The deliveries also mark Flirtey's largest commercial relationship to date. Building on this initial collaboration, the two companies have plans to expand drone delivery tests and work closely together, according to 7-Eleven EVP and Chief Merchandising Officer Jesus H. Delgado-Jenkins.
"Drone delivery is the ultimate convenience for our customers and these efforts create enormous opportunities to redefine convenience," said Mr. Delgado-Jenkins. "This delivery marks the first time a retailer has worked with a drone delivery company to transport immediate consumables from store to home. In the future, we plan to make the entire assortment in our stores available for delivery to customers in minutes. Our customers have demanding schedules, are on-the-go 24/7 and turn to us to help navigate the challenges of their daily lives. We look forward to working with Flirtey to deliver to our customers exactly what they need, whenever and wherever they need it."
"I congratulate Nevada-based company Flirtey on making history yet again – this time by collaborating with the world's largest convenience retailer to complete the first store-to-home drone delivery in Reno, Nevada," said Nevada Governor Brian Sandoval. "Through our FAA Test Site designation, Flirtey has cemented Nevada's position as the leader in the commercial Unmanned Aerial Vehicles (UAV) industry and I look forward to seeing them continue to grow and bring jobs to our region."